Through the Looking Glass: Interactive Desktop Mirroring for Multiple Display Environments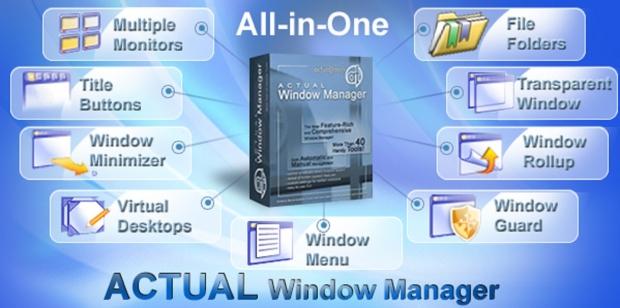 The well-known technique of replicating certain parts of Windows desktop in separate windows has been finally enhanced with an ability to interact with the mirrored content in the latest version 8.14 of Actual Multiple Monitors, a popular set of multi-monitor extensions.
Desktop mirroring is a widely used technique of advanced content management in multiple display environments. It allows to create the so-called mirrors - separate windows that display the contents of a selected part of Windows desktop (the area around the mouse pointer, another window, an entire display, or an arbitrary part of a desktop). Such windows then can be placed anywhere within a multi-monitor desktop. Mirroring is useful in the following cases:
One needs to duplicate certain information on several displays (cloning);

One needs to observe what is happening on a display that is currently out of sight (a TV panel or a video projector in another room, a customer-facing display, a sales area display showing advertisement videos, etc.).
Until recently, desktop mirrors were simple pictures that only allowed to view their contents. The latest version 8.14 of Actual Multiple Monitors finally brings the ability to interact with mirrored content right in the mirror, without having to drag the mouse to the source area. Such interaction turns mirrors into a full-featured control tool that can be widely used to accomplish various practical tasks:
Digital signing: only the signature area is mirrored on a pen-operated tablet;

Electronic interviewing/testing: an interviewee sees a mirror of just a selected part of an interview/testing window;

Content presentation: an operator controls media playback on remote displays through mirrors located on their main display (Picture-in-Picture approach);

Content scaling: content in a mirror can be scaled up or down several times but remains interactable.
Interaction with mirrors is a finishing touch to the mirroring technique and also a much-requested addition to the collection of multi-monitor services available in Actual Multiple Monitors - software solution meant to cover the underdeveloped or missing functions of Windows OS regarding multi-monitor setups.
Pricing and availability
Actual Multiple Monitors runs on all Windows platforms from Windows 2000 onwards (including 64-bit editions) and costs 24.95 USD for a single-user license. Discounts for volume buyers are available (please refer to https://www.actualtools.com/multiplemonitors/order/#volume_discounts).
Additional information on Actual Multiple Monitors, a collection of tutorial articles and success stories, and a 30-day evaluation copy are available on the Actual Tools website.
Links
Company website: https://www.actualtools.com
Product page: https://www.actualtools.com/multiplemonitors/
Download: https://www.actualtools.com/multiplemonitors/download/#current
About
Actual Tools delivers desktop and window management software for Windows since 2002. The main product Actual Window Manager is comprehensive and feature-rich system extension utility that covers almost every aspect of everyday Windows using: window operations, file operations, clipboard operations, etc. Also, if offers numerous advanced tools for work automation, task management, and multi-monitor desktop environment.
Last updated: Sep 25, 2019 at 05:39 pm CDT