CHICAGO - June 11, 2019 - SteelSeries, the global leader in gaming peripherals and the makers of the first mechanical gaming keyboard, today announced the availability of the Apex Pro, the world's most customizable mechanical gaming keyboard with fully adjustable actuation switches. The Apex Pro allows gamers to adjust the distance it takes for each key to register a key press, helping them to play more accurately and quickly. The Apex Pro was announced to great praise at Computex 2019, winning three Best of Show Awards.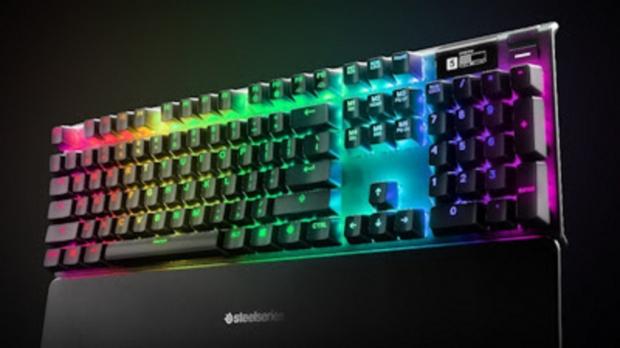 The Apex Pro's patented OmniPoint adjustable mechanical switches uses magnetic sensors to allow gamers to choose the exact sensitivity of their keys. Powered by SteelSeries Engine, the Apex Pro can automatically change sensitivity when starting up a game like Counter-Strike: Global Offensive, and another for everyday productivity tasks. The magnetic sensors also provide a significantly faster response time than traditional mechanical switches, making the Apex Pro also the world's fastest and most responsive keyboard.
Alongside the new OmniPoint switches, the new Apex Pro sports an integrated OLED Smart Display for instant notifications from apps like Discord and Spotify, games like CS:GO and Dota 2 and also allows users to customize their actuation point directly from the keyboard. In addition to the OLED Smart Display, the Apex Pro also features a clickable metal roller and media key that allows users to adjust volume and settings on-the-fly, an aircraft-grade aluminum build, per-key RGB lighting, five on-board profiles, a USB passthrough port, three way cable routing system and a premium magnetic wrist rest.
The Apex 7 is physically identical to the Apex Pro, but instead of the adjustable OmniPoint switches, it comes with SteelSeries Red switches. The Apex 7 will also be available in Blue and Brown switch variants, as well as in a ten keyless (TKL) version later this fall.
The Apex Pro is available now at Best Buy and steelseries.com for $199.99, with the compact ten keyless (TKL) variant coming later this summer. The Apex 7 Red is available now for $159.99.
For more information about the Apex Pro line and the complete line of SteelSeries' keyboards, visit www.SteelSeries.com for more information.