Pohlheim, 06 June 2019 - Sharkoon Technologies is an international supplier of PC components and peripherals, offering performance at a reasonable price. Sharkoon now presents the ELBRUS 3. This is a comfortable and ergonomic gaming chair in a design that has taken its inspiration from the world of motor racing. The steel frame inside the chair and the sturdy five-star base both provide a maximum degree of stability.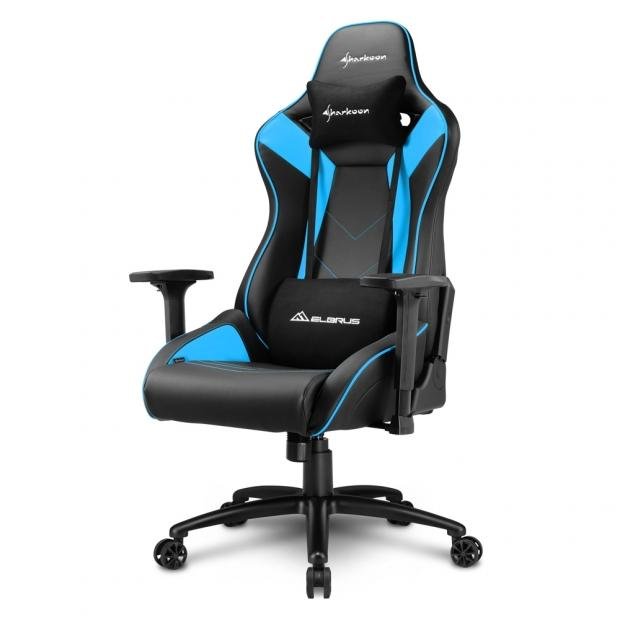 Ergonomically Adjustable.
The ELBRUS 3 has various adjustment features and so can be easily adapted to the ergonomic requirements of the user. To do this, the chair not only has an adjustable backrest and seat height but has also been provided with fully variable armrests. These can be changed in height, length and to a horizontal angle. The user has thus various possibilities for finding a healthy and comfortable sitting position.
Various Functions for Relaxation
For creative relaxation during breaks, the ELBRUS 3 has been equipped with an adjustable backrest. This can be locked at different angles using an extra-large adjustment handle. The user can recline in a position anywhere between 90 and 160. While gaming, extra motion is provided by the tilt mechanism, allowing the chair to be rocked. The mechanism can be locked or unlocked via an additional handle on the underside of the chair.
Soft Padding with Synthetic Leather Cover
For long periods of sitting, comfort is provided by the particularly soft padding of the upholstery with its synthetic leather cover. The padding adapts ideally to the body form of the user and, together with the raised sides of the seat base, ensures a feeling of comfort. Extra room for the legs is found on the larger than usual seat base.
Maximum Load up to 150 Kilograms.
The ELBRUS 3 is certified for safety and stability up to a weight of 150 kilograms. This is ensured with the sturdy five-star base and the stable steel frame construction. The class-4 gas lift piston enhances the entire stability of the ELBRUS 3. In addition, the gaming chair is suitable for users with a body size of up to 190 centimeters.
Unrestricted Movement.
The five wheels of the gaming chair have a diameter of 60 millimeters and are especially designed for interior floors and allow unrestricted mobility on even surfaces.
Price and Availability.
The ELBRUS 3 gaming chair is now available at a suggested retail price of 259 euros.
ELBRUS 3 HD photos:https://en.sharkoon.com/product//ELBRUS3#galleryhttps://en.sharkoon.com/Download/Gaming/Gaming_Seat/ELBRUS_3/gallery_ELBRUS_3.zip
ELBRUS 3 premium content: https://en.sharkoon.com/Download/Gaming/Gaming_Seat/ELBRUS_3/prem_elbrus3_en_01%20.pdf
ELBRUS 3 video:
ELBRUS 3 overview: https://en.sharkoon.com/product//ELBRUS3#desc