Two new benchmarks now available in PCMark 10
May 27, 2019 7:02 PM CDT
Today we're adding two new benchmark tests to PCMark 10 Professional Edition. The first is our eagerly awaited PCMark 10 battery life benchmark. The second is a new benchmark test based on Microsoft Office applications. https://benchmarks.ul.com/pcmark10

A new approach to battery life benchmarking
Battery life is one of the most important factors for choosing a laptop. But measuring and comparing battery life is hard because it depends on how you use the device.
PCMark 10 introduces a new approach to battery life benchmarking - the PCMark 10 Battery Life Profile. Instead of producing a single number, the PCMark 10 Battery Life Profile provides a broad view of battery life across five common scenarios.
The Modern Office scenario measures battery life for typical work activities such as writing, web browsing, and video conferencing.

The Applications scenario measures battery life for work tasks using Microsoft Office applications.

The Video scenario measures battery life by playing a video continuously in full screen mode until the battery is empty.

The Gaming scenario is a constant, heavy load that produces the lower limit of the battery life profile.

The Idle scenario measures battery life for the inactive time between tasks to find the upper limit of the battery life profile.
Comparing battery life profiles will give you a better understanding of a device's relative strengths. Battery life profiles will also help your readers find the models that best meet their personal needs.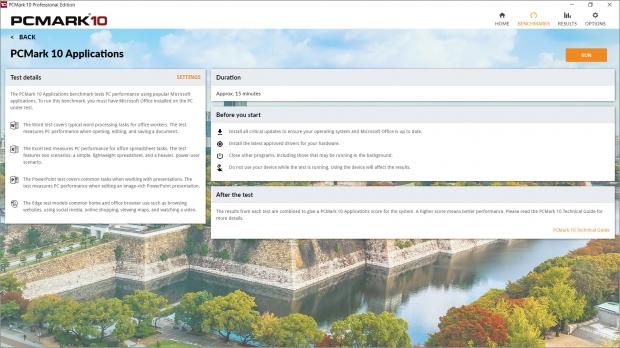 Performance testing with Microsoft Office applications
Enterprise procurement managers and government IT buyers often like to test and compare PC performance with the work apps they use everyday.
The PCMark 10 Applications benchmark is a new test that is based on Microsoft Office applications. It helps you measure practical, real-world PC performance for the modern workplace.
The Word test covers typical word processing tasks for office workers. The test measures PC performance when opening, editing, and saving a document.
The Excel test measures PC performance for office spreadsheet tasks. The test features two scenarios: a simple, lightweight spreadsheet, and a heavier, power-user scenario.
The PowerPoint test covers common tasks when working with presentations. The test measures PC performance when editing an image-rich PowerPoint presentation.
The Edge test models common home and office browser use such as browsing websites, using social media, online shopping, viewing maps, and watching videos.
You can also use this benchmark to test the latest Always Connected PCs running Windows 10 on Arm, with results that are comparable with scores from traditional x86-based devices.
Available now
Both benchmarks are available now as a free update for PCMark 10 Professional Edition customers with a valid annual license.
For new customers, PCMark 10 Professional Edition starts at $1495 per year for a single seat license. Please visit the UL Benchmarks website to request a quote. https://benchmarks.ul.com/pcmark10
For Press Use
You can start using these new tests in your reviews today with your existing PCMark 10 license key. Follow the update prompts in the app to get the latest version.
If you're not already using PCMark 10 in your reviews, or your key has expired, simply reply to this email and we'll set you up. We've also created a press kit that includes screenshots, logos, a fact sheet, and other assets you might find useful.
Meet us at Computex
We're at Computex this week. If you or your colleagues are attending and would like to meet up, please let me know so that we can find some time for you.
If you have any questions about PCMark 10, or benchmarking in general, please don't hesitate to get in touch.
Related Tags