Amsterdam, 8th May 2019 - AOC, a global leader in the gaming monitor market, officially kicked off their partnership with Disneyland Paris Major (MDL), the fourth Dota 2 Major of the Dota Pro Circuit 2018-2019 season. Taking place at Disneyland Paris from May 4th to May 12th, 16 professional Dota 2 teams from all over the world are competing for a prize pool of $1,000,000 USD and a direct qualification spot for The International 2019 Dota 2 Championships. Thanks to AOC's sponsorship, all teams are being supported by AOC's G2590PX gaming monitors, featuring top-notch features such as 144 Hz, 1 ms response time and Free Sync.

Hosted by Mars Media and Disneyland Paris, 16 renowned top-teams, including Dota 2 legends such as Team Liquid, OG, or Evil Geniuses, face off at Disney's Newport Bay Club and Disney Event Arena in front of a 6,000-strong on-site crowd. As the teams were spread over four groups at the tournament, four teams each engage in best-of-three series to determine the two top and the two bottom teams, who then either advance to the upper or lower bracket in the playoffs. In the lower bracket, the eight lower teams must fight for their lives in a challenging best-of-one, while the teams in the upper bracket take on the other group winners in a best-of-three. After that, all matches, regardless of upper or lower bracket, are best-of-threes, except for the grand finals, which are played as a best-of-five series.
Crisp visuals for demanding matches
As Dota's artistic comic look and its complex team fights require a display with great response time and refresh rate, picked for the purpose was the AOC G2590PX gaming monitor. It boasts a frameless TN panel with 24,5", 16:9 Full HD (1920x1080 pixels), FreeSync support, 1 ms response time and high refresh rates of up to 144 Hz. The G2590PX demonstrates how a display can combine performance, style and affordability into one package while continuing to ensure a smooth, tear and stutter-free gameplay experience.
Aymeric Magne, Director Disney Global Events, adds: "AOC is an exciting brand when it comes to monitors. With the AOC Gaming brand they provide top-class monitors fulfilling every gamer's needs. We are thrilled to have them on board for the MDL Disneyland Paris Major."
Stefan Sommer, Director Marketing & Business Management: "Staying in close touch with the global gaming community has always been one of AOC's most important core values. As more and more fans tune in to watch professional gamers compete for a change at glory, the world of competitive gaming grows exponentially with every event and tournament happening. Therefore, AOC is delighted to partner up with Lagardere Sports, to bring you - for the first time ever - the MDL Disneyland Major."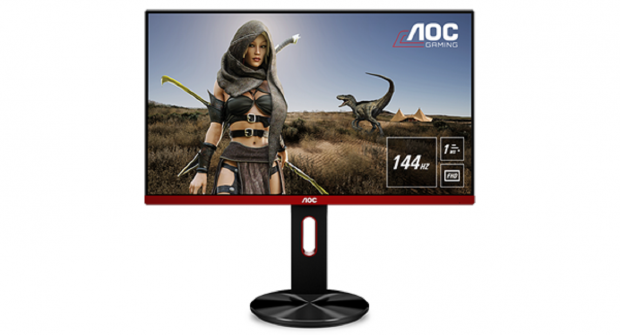 For further information, please go to AOC Gaming's official website or follow AOC Gaming on Facebook, Twitter or Instagram.
About AOC:
AOC is one of the global top brands in the display market. High quality, first-rate service, attractive designs as well as environmentally friendly, ergonomic and innovative products at competitive prices are the reasons why more and more consumers, corporate decision-makers and distribution partners trust in AOC. AOC offers displays which cater to every type of user, be it for professional, home, entertainment or gaming use. AOC is a subsidiary of TPV Technology Limited, the world's largest LCD manufacturer.https://eu.aoc.com
About Mars Media:
Mars Media is an events organizer, studio and content producer based in Shanghai, China. Founded in 2012, Mars Media has then become one of the leaders in the esports industry in China, and is better known for hosting the Mars Dota 2 League and the Dota 2 Professional League.
About Disneyland Paris Event Group:
Disneyland Paris Event Group is the division in charge of imagining, organising, producing and hosting events at Disneyland Paris, Europe's top tourist destination. Its teams combine their event expertise with the Disney DNA to bring powerful and unique experiences to life. Every year, nearly 850 events are organised on behalf of professionals, individuals and the general public via two distinct brands: Business Solutions and Live Events.
About Disneyland Paris:
Europe's number one tourist destination, Disneyland Paris has welcomed more than 320 million visits since opening in 1992 (13.4 million visits in 2016). The resort boasts two spectacular theme parks (Disneyland Park and Walt Disney Studios Park) and seven themed Disney Hotels with 5,800 rooms (more than 2,700 rooms are available in Selected and Associated Hotels). Two full-service convention centres and a world-class 27-hole golf course are also present. In addition to this, the destination is home to Disney Village - one of the largest entertainment complexes in the Ile-de-France region. Spread over more than 30,000m, Disney Village proposes themed dining, shopping and cinema experiences. Disneyland Paris comprises 59 attractions, 63 shops, and 55 restaurants.
About MDL Disneyland Paris Major:
The Mars Dota 2 League (MDL) is one of the most prestigious Dota 2 events in the world, and has welcomed the best teams the scene has to offer for the past five years. Having rewarded over 2,7 million dollars in prize-money makes MDL one of the most lucrative franchises in the esports industry. In co-production with Disneyland Paris the MDL Disneyland Paris Major was organized as the first ever Dota 2 Major in the French market.