Patriot Memory launches new Signature Premium DDR4 UDIMM memory with heatshield
May 1, 2019 11:07 PM CDT
FREMONT, CALIFORNIA - May 1st, 2019- PATRIOT, a global leader in performance memory, SSDs, gaming peripherals, and flash storage solutions, today has announced the release of their latest Signature Premium series line of DDR4 UDIMM memory, which are Non-ECC unbuffered memory designed to deliver outstanding quality, rock solid stability and great performance expected by today's mainstream PC builder.
Signature Premium DDR4 memory provides a wide range of capacities allowing the builder to choose from a variety of speeds and capacities starting with 4GB single modules up to 32GB dual channel kits. The minimalist heat spreader design offers great heat dissipation and is made from high-purity aluminum. Signature Premium DDR4 series modules offer reliability to those who upgrade or build systems for work or business and are cost effective too.

"We are thrilled to introduce this exciting new line to the mainstream PC users and integrators" said Roger Shinmoto, Vice President at Patriot. "The Signature Premium DDR4 UDIMM memory with heatshield product line is offering what consumers need most: a great looking DRAM backed by solid performance and a good price."

Signature Premium DDR4 series modules are built from an eight-layer PCB to guarantee excellent signal integrity for stability while also offering the extra potential for increased performance diversity across any of the Signature Premium DRAM modules. The components used all undergo a proprietary sorting process to preserve strict quality standards and higher reliability on the latest Intel and AMD platform motherboards.

Easy assembly and higher reliability are significant features for retailers and system integrator who are looking to reduce build costs. Signature Premium DDR4 series modules have been built to ensure that every module meets and exceeds industry standards to offer a hassle-free plug-and-play and a fully compatible memory upgrade. Backed by a limited lifetime warranty and free customer service, Patriot's Signature Premium DDR4 memory modules would be the perfect option for any PC system build or upgrade for faster performance.
The Signature Premium DDR4 UIMM with Heatshield series product line overview and MSRP: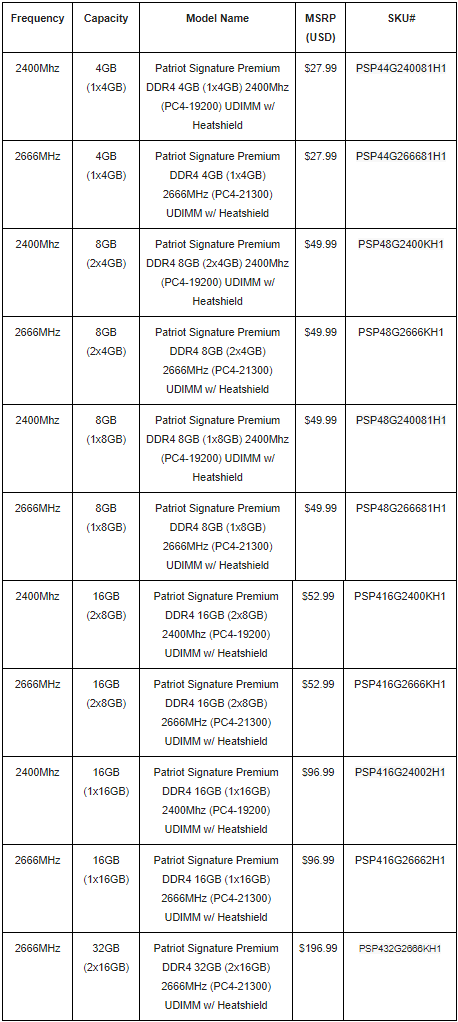 For more product information:
Product Page: https://bit.ly/2OMgYkp
Signature Premium series Marketing Assets download: Click here
About Patriot:
Patriot is the leading manufacturer of high performance, enthusiast memory modules, SSDs, flash storage, gaming peripherals and mobile accessories. Founded in 1985 and headquartered in Fremont, CA, USA, Patriot is committed to technology innovation, customer satisfaction and providing the best price for performance on the market. Patriot products have become world renown for their extreme performance, reliability and innovation.
Patriot sells its products through original equipment manufacturers, retailers, e-tailers and distributors throughout the world with operations in North America, South America, Asia and Europe. All company and/or product names may be trade names, trademarks and/or registered trademarks of the respective owners with which they are associated. Features, pricing, availability, and specifications are subject to change without notice.
Related Tags