'Brave Frontier' and 'THE KING OF FIGHTERS' Collaboration coming this Spring
SAN FRANCISCO, ANZ, AND SOUTHEAST ASIA - April 23, 2019 - gumi Inc invites all Brave Frontier players to partake in the upcoming THE KING OF FIGHTERS collaboration. Starting from April 24th to May 22nd, players will get the chance to acquire 4 new characters in-game alongside old favorites.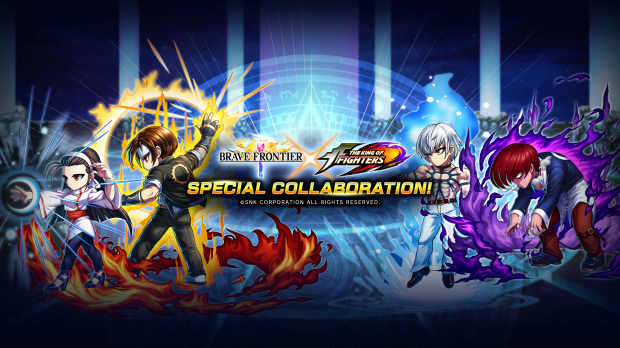 Here are the highlights of this event:
4 New THE KING OF FIGHTERS Units
Chizuru Kagura - One of the scions of the three families that had sealed the creature known as Orochi, Chizuru Kagura was a priestess, a martial artist, and an accomplished woman in her own right.
Orochi - A powerful avatar of nature personified. Orochi began to spread its dark influence around the world to eradicate mankind from the world but was sealed away by three families after a mighty battle.
Orochi Iori - A strong warrior with no recollection of himself. The only thing he could remember was his desire for blood. Death! Massacre! These were the words whispered constantly in his mind. With a strange power running through his veins, his body moved with grace and ease, as if he had done it a million times before.
Kyo Kusanagi - A carefree fighter with the power to manipulate fire, Kyo Kusanagi was the scion of one of the three families that had sealed away the creature known as Orochi.
Returning Fighters of the Previous THE KING OF FIGHTERS
Players will have the opportunity to acquire popular THE KING OF FIGHTERS characters from the previous collaboration: Terry Bogard, Iori Yagami, Omega Rugal, Benimaru Nikaido, Kula Diamond, Athena Asamiya, Mai Shiranui, and Leona.
THE KING OF FIGHTERS Arena
This collaboration will introduce a new dungeon mechanic for players to experience. Players will have the option to select different paths as they complete the dungeon. Battle your way to victory against the best fighters to obtain limited Items, including The King of Fighters Sphere, Materials, and Gems in this new showdown.
Login and Milestone Campaigns
Players who log in daily during the collaboration period can enjoy 21 days of rewards, including Gems and Summon Tickets.
Brave Frontier is available for download globally on iOS, Android, Amazon, and Windows Phone devices.
Note: All dates mentioned are PST.
Brave Frontier updates are available on:
Facebook: http://www.Facebook.com/BraveFrontierGlobal
Twitter: https://twitter.com/bravefrontiergl
YouTube: http://www.YouTube.com/user/BraveFrontierGlobal
Official Site: http://bravefrontier.gumi.sg/
About Brave Frontier
Explore the land of Grand Gaia and save it from the evil hordes of the corrupted god Maxwell in this epic mobile turn-based role-playing game. As a powerful Summoner, you have the ability to conjure powerful demigods, brave warriors, and majestic beasts to fight for you! Brave Frontier features over 500 legendary heroes and beasts to collect and evolve, an addictive-yet-simple turn-based action-packed combat system, and over 100 missions including ongoing weekly challenges and special dungeons.
About gumi Inc.
Founded in 2007, gumi Inc. (Tokyo Stock Exchange: 3903) is a leading global mobile game publisher and developer headquartered in Japan, with overseas operations in France, Korea, Singapore, Taiwan and the United States. The company has proven success in launching titles worldwide, such as the widely popular role-playing games Brave Frontier and Phantom of the Kill. With ongoing publishing and development projects on various platforms, including iOS, Android, and more, gumi aims to change the world through innovative entertainment products and services, including both original content and collaborations with popular IP. For more information, please visit http://www.gu3.co.jp/en/.
About SNK CORPORATION
Headquartered in Osaka, Japan, SNK CORPORATION develops, publishes and distributes interactive entertainment software in Japan, North America, Europe and Asia. Originally founded in 1978, SNK is one of the largest privately held interactive entertainment content providers in the world. Known for such franchises as THE KING OF FIGHTERS, METAL SLUG, and SAMURAI SHODOWN, SNK continues to be an industry leader by focusing on its rich arcade history. More information on SNK CORPORATION can be found at https://www.snk-corp.co.jp/us/
PRICING: You can find products similar to this one for sale below.

United States: Find other tech and computer products like this over at Amazon.com

United Kingdom: Find other tech and computer products like this over at Amazon.co.uk

Australia: Find other tech and computer products like this over at Amazon.com.au

Canada: Find other tech and computer products like this over at Amazon.ca

Deutschland: Finde andere Technik- und Computerprodukte wie dieses auf Amazon.de
Related Tags