Sin Slayers: The First Sin - The first act of a dark RPG set in the underworld
April 11, the free prologue of pixel art RPG Sin Slayers released on Steam. Developers Goonswarm are giving everyone the chance to start their journey through the world between worlds. Players will be thrown into the first location of the game to meet the first Sin Lord, Gluttony, and his minions.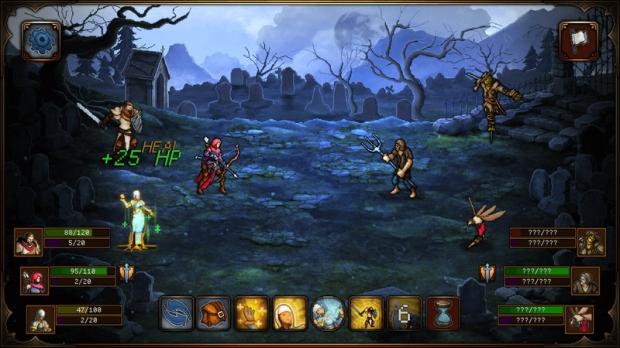 In this free demo, you'll experience all basic gameplay mechanics, try out five heroes, and battle the game's first bosses. Thanks to randomly generated locations and roguelike elements, Sin Slayers' first act will provide you with hours of entertainment. You'll get to explore a dark fantasy world of fallen sinners, meet the main heroes of the story, and start the campaign.
Sin Slayers is a dark RPG set in a treacherous underworld. The player will need to create, equip and lead a team of heroes, each with their own pros and cons that you must incorporate into your strategy. To escape your doom, you must slay seven Sin Lords. Fight in JRPG-inspired turn-based combat and explore a roguelike world, thanks to randomly generated maps and encounters and the varying difficulty of every playthrough.
Key game features:
10 playable characters. You'll have access to five of them in the prologue.

Classic turn-based JRPG combat system.

Randomly generated levels will let players find new secrets, monsters and events on each playthrough.

Lots of additional quests and tasks from NPC's

A dark fantasy atmosphere inspired by Castlevania, Diablo and the Dark Souls series.

Your choices determine playthrough difficulty.

Cursed locations: Each region will be cursed in one way or another. You'll have to adjust your play style to succeed.

A wide variety of skills to learn, armor to craft and artifacts to discover.
"In the prologue, players will be able to try out all main gameplay mechanics and play through the breathtaking beginning of our story in the world between worlds. Our heroes have just awoken from the black sleep of death. Now they must battle uncounted ghosts, demons and lost souls in search of a first ray of hope." - Lead Game Designer Pavel Shestakov.
Sin Slayers was an Indie Prize Finalist at Casual Connect Serbia 2018 and is planned to release on every modern game platform.
Classical JRPG turn-based combat system:
Sin Slayers' turn-based combat system is build upon tactical decisions and team management. You'll always have three heroes in your vanguard. Every hero has unique combat skills and abilities, and only three will be available as you battle the underworld's demonic hordes. The Priestess can heal her team, the Defender can shield the fragile Huntress and Priestess, and the Warrior can deal out punishing amounts of damage.
Randomly generated locations:
Random level generation means tons of replayability. Every location will be different every time you play, allowing players to make new discoveries with each playthrough.
Every location has its own curse that directly impacts gameplay. For example, in the Forest of Gluttony eating will raise the sinfulness of your squad. In the Village of Envy, players won't be able to earn souls if their sinfulness score isn't high enough.
Characters:
The game has 10 playable characters, but with a successful Kickstarter that number can climb higher. Every character has their own unique set of skills and abilities. Your vanguard will always consist of 3 units, with the others remaining behind to protect the Old Church. Players must carefully consider who they wish to bring to the fight based on the strengths and weaknesses of the next boss, the specific curse of the current location, and their own personal playstyle.
Atmosphere and universe:
The world and environments of Sin Slayers are inspired by the dark atmosphere and universes of Dark Souls, Bloodborne and Diablo. The hopelessness and suffering of our heroes' souls are reflected in the game's monster design, dialogues, and seven cursed regions. The developers have pioneered the "bold" pixel technique to create darker shadows, dirtier dirt and more immersive surroundings. Bold pixel creates a truly believable atmosphere for the underworld.
Story:
Sin Slayers is set in a world between worlds, the Valley of the Fallen Sinners, where our heroes have been imprisoned after their deaths. To return to the world of the living they will need to travel seven cursed lands, slay the seven Sin Lords, and destroy the seven magical seals. Wander through primeval forests, boneyards filled with crypts and the graves of fallen warriors, and other damned regions that will test even the bravest heart.
Sinfulness:
Your action and decisions along the way drive the Sinfulness of your team. If your Sinfulness score is high, expect tougher monsters but also better loot. If you want to keep things easy, make sure your sins are few.
Skills and Crafting:
The abundance of quests, items, secret locations and resources in the game will satisfy any "Munchkin". The player will be able to craft a variety of items, weapons, armor and elixirs, from ordinary swords and iron armor to enchanted shields and fiery cloaks that will greatly boost squad strength.
Each character in the Sin Slayers has their own skill tree, including strikes, evasion, endurance, exhaustion of the enemy, and many other abilities. The player is free to build squad tactics as he sees fit.
Additional quests:
The world of Sin Slayers is filled with optional tasks and random encounters. Every quest will add new goals and rewards to your playthrough. For example, you can decide ito help a cursed merchant recover his former appearance, or leave him be in the body of a filthy and ever hungry pigman.
Cursed locations:
The world of the game is divided into several locations. Each is cursed in its own way and will require the player to adjust their play style to succeed. If you want to win, you'll need to constantly adapt your tactics depending on enemy type, locations, and your squad strengths and weaknesses.
Platforms:
On release: PC/MacOS X/Linux
TBA: PS4, Xbox One, Nintendo Switch
TBD: iOS and Android
About the developers:
Sin Slayers is being developed by Goonswarm, Russia. Each team member has a plethora of games development experience. Teams they have worked for in the past include: GD-Team, Gaijin Entertainment and Game Insight.
Black Tower Entertainment is a game publisher specializing in oldschool projects with RTS or RPG elements.
Steam: https://store.steampowered.com/app/1057690/Sin_Slayers_The_First_Sin/
Press-kit: http://goonswarm.ru/presskit/sheet.php?p=Sin%20Slayers
Twitter: https://twitter.com/sinslayersgame
Facebook: https://www.Facebook.com/sinslayersgame/
Website: http://www.sinslayers.com
PRICING: You can find products similar to this one for sale below.

United States: Find other tech and computer products like this over at Amazon.com

United Kingdom: Find other tech and computer products like this over at Amazon.co.uk

Australia: Find other tech and computer products like this over at Amazon.com.au

Canada: Find other tech and computer products like this over at Amazon.ca

Deutschland: Finde andere Technik- und Computerprodukte wie dieses auf Amazon.de
Related Tags