PORT WASHINGTON, N.Y., March 25, 2019 -When it comes to entertaining themselves, most Americans choose to watch movies and TV, over listening to music, playing video games, and other forms of entertainment. In fact, 27 percent of all entertainment hours in 2018 were spent watching TV and movies, followed by 19 percent listening to music, and 16 percent playing video games, according to The NPD Group. The remaining 38 percent of entertainment time was taken up by reading books, social networking and other activities.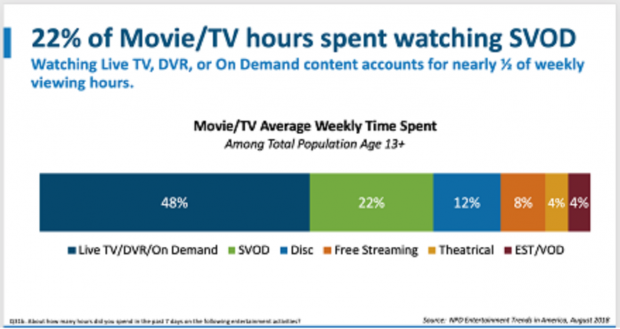 "While video content topped Americans' entertainment choices last year, their viewing continued to shift toward subscription video and other digital forms of viewing," said Kathi Chandler-Payatt, media entertainment industry analyst for NPD. "In fact, more than half of U.S. consumers streamed video content via subscription last year."
According to the latest "Entertainment Trends in America" report from NPD, consumers relied on live TV, digitally recorded video (DVR), or on-demand content from their pay TV providers nearly half of the time they watched movies and television content in 2018. Less than one-quarter (22 percent) of viewing hours were spent watching video on Netflix, Hulu, Amazon Prime and other subscription services.
The Digital Continuum for Gaming and Music
The shift toward digital gaming continues, according to the report. The number of consumers buying only physical games declined from 47 percent in 2015 to 36 percent in 2018. When it comes to music, three-quarters of music transactions are digital, as they have been for the past three years. Roughly one-third (30 percent) of music consumers continue to purchase only physical music. "With the impact of streaming and 5G uncertain, and since video and video games are still at an earlier stage in their format evolution, we can expect to see a bit more volatility in those industry segments in the coming years," Chandler-Payatt said.
The "Entertainment Trends in America" survey was fielded to members of NPD's online panel from June through July 2018. The study was based on 7,884 completed responses from consumers age 13 and older and weighted to represent the U.S. population.
About The NPD Group
NPD offers data, industry expertise, and prescriptive analytics to help our clients grow their businesses in a changing world. Over 2000 companies worldwide rely on us to help them measure, predict, and improve performance across all channels, including brick-and-mortar and e-commerce. We have offices in 27 cities worldwide, with operations spanning the Americas, Europe, and APAC. Practice areas include apparel, appliances, automotive, beauty, books, B2B technology, consumer technology, e-commerce, fashion accessories, food consumption, foodservice, footwear, home, juvenile products, media entertainment, mobile, office supplies, retail, sports, toys, travel retail, games, and watches / jewelry. For more information, visit npd.com. Follow us on Twitter: @npdgroup.