VoidVR, the small indie games studio behind the VR wave shooter Hit The Hive reveals that they are prepping I'm Fine, a VR suicide awareness experience for release.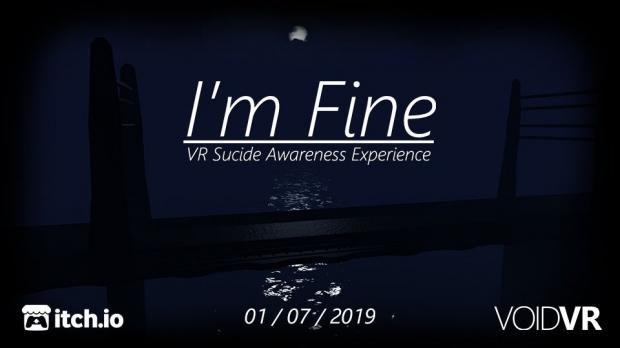 I'm Fine will be released for the HTC Vive and Oculus Rift (All models). The experience which is due to release on the 1st of July 2019 is undergoing the final stages of polishing, fact checking and user testing.
The purpose of I'm Fine as a medium is to communicate two types of data, emotional data and statistical data in an attempt to raise awareness for the subject while presenting it in a new light.
Emotional data includes what it is like to have suicidal thoughts, feelings and be in a situation similar to that of a potential suicide attempt; the statistical data explores the facts of suicide worldwide so that people can be properly educated on the subject.
The emotional data will help people to better understand what a sufferer may be going through, the statistical data on the other hand is used to reinforce the emotional data, without resorting such extreme measures.
With the suicide rate worldwide rising 60% in the last 45 years and the total number of suicide deaths yearly reaching nearly 800,000, light needs to be shed on this taboo subject, that we really aren't discussing enough. Which is exactly why VoidVR is making I'm Fine.
I'm Fine will be released on Itch.Io and will require no purchase to obtain the project, donations will however be open for those that want to help the cause and all donations will be forwarded to various Suicide and Depression related charities around the world.
Please note: I'm Fine is not a game and it has no entertainment value. It is an educational piece of work, designed to do good in the world.
For more information, please visit: https://voidvr.itch.io/im-fine or visit the studio's Twitter : https://twitter.com/VoidVRStudio
About VoidVR :
VoidVR is a small indie studio headed by Stephen Newman, born out of one man's dream to take VR products to the next level and provide a level of content and affordability that is unrivalled by none.
The studio itself puts the player above everything in every aspect of what we do.
Last updated: Apr 7, 2020 at 12:12 pm CDT