London, United Kingdom - March 12th, 2019 - Runner Duck Games and Curve Digital are proud to announce that the second console DLC for the smash-hit strategic simulator, Bomber Crew, is now available on PlayStation 4, Xbox One and Nintendo Switch priced at $/EURO 6.99 - EURO 5.99. The Bomber Crew: American Edition bundle (including the base game + USAAF DLC) is also available at $/EURO 19.99 - EURO 15.99 with a 20% discount for two weeks.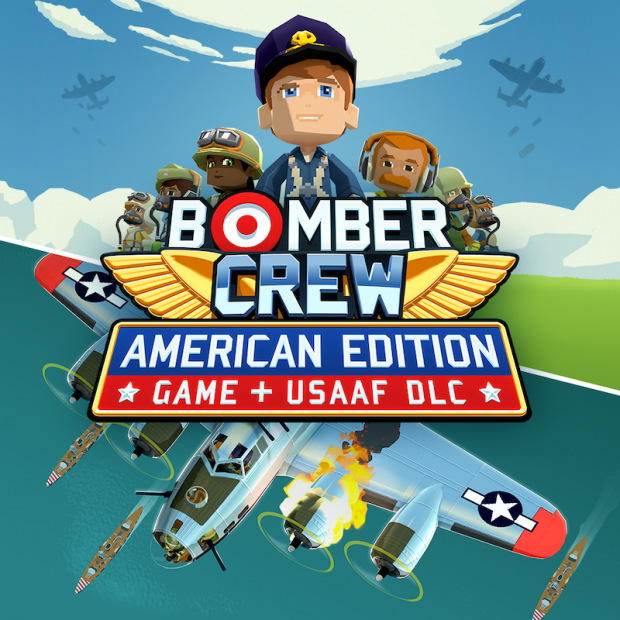 The USAAF DLC arrives following its PC release last October and features a host of new content to keep would-be Dambusters in the skies until at least tea time. In Bomber Crew players have to recruit, train and upgrade their very own WW2 Bomber Crew, each with only one life, and then guide them to victory while overcoming the challenges of enemy flak fire, unstable weather conditions, enemy radar detections, dreaded enemy Aces and many more. Every bombing run is a risk, but the rewards are great.
Joining the fray in the USAAF DLC is an iconic American Bomber which holds more Crew than ever, and a brand new campaign set in a never before seen Theatre of War! Players will have to battle it out with all new enemy fighters and Aces while defending from attack from the enemy below. Dam-busting has never been so dangerous!
USAAF DLC is available now on Nintendo Switch via the eShop, Xbox One via the Xbox Games Store and PlayStation 4 via the PlayStation Store. USAAF DLC supports 4K output on PlayStation 4 Pro and Xbox One X, for players with an 4K compatible TV.
"Following its hugely successful launch last year we're delighted to bring the USAAF DLC to consoles for the very first time," said Cedrine Decoret, Product Manager at Curve Digital. "Bomber Crew continually picks up new players and we can't wait for any new recruits to get under way with this meaty DLC."
"USAAF will give players an all-new campaign in an awesome new setting," said Jon Wingrove, Co-Founder and programmer at Runner Duck. "We hope players enjoy all the new content and in particular piloting the beautifully chromed American Bomber, which holds more crew members than ever, presenting new options and challenges for seasoned players!"
About Runner Duck Games:
Runner Duck Games is a two-person indie studio founded in 2016 by artist Dave Miller and programmer Jon Wingrove following an extensive stint at Relentless Software. Throughout their careers the pair have worked on a series of both indie and AAA franchises across mobile and console including Buzz! and DiRT 2. In 2018, Runner Duck Games were crowned best New Studio at the Develop awards and most recently they have been nominated in multiple categories for Bomber Crew in the 2018 TIGA awards. Runner Duck Games is based in Brighton, UK.
About Curve Digital:
Curve Digital is one of the leading publishers of games on PC and consoles. Since 2013, the company has been working with some of the world's best game developers to help bring their games to the broadest possible global audience; from indie hits like Dear Esther to the likes of the multi-million-selling Human: Fall Flat. In 2017 Curve Digital was recognised by the celebrated Develop Industry Excellence Awards as 'Publishing Hero' and crowned 'Indie Games Publisher of the Year' at the 2018 and 2019 MCV Awards. Curve Digital was also a 2019 finalist for MCV's 'Community Management of the Year'.
Last updated: Apr 7, 2020 at 12:12 pm CDT