Torrance, Calif. - March 6, 2019 - Death doesn't matter, only revenge. XSEED Games, the independent-minded publishing brand of Marvelous USA, Inc., today announced that GUNGRAVE VR and GUNGRAVE VR U.N, the VR shooter featuring third- and first-person gameplay modes and the standalone episode 2 content that greatly expands the story and gameplay, are now available for Windows PC via Steam with support for both HTC VICE and Oculus Rift VR headsets.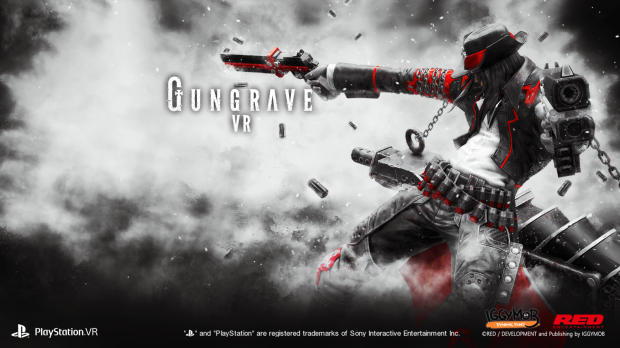 GUNGRAVE VR is available for $24.99, 24.99, and 19.99, while GUNGRAVE VR U.N is sold separately for $9.99, 9.99, and 7.99. Players can purchase both games together as the "Loaded Coffin Edition" value bundle containing both GUNGRAVE VR and GUNGRAVE VR U.N for $29.74, 29.74, and 23.79. All versions will have a launch week discount of 15%.
Previously released on PlayStation VR on the PlayStation 4 computer entertainment system, the PC release of the title features identical content while including expanded graphical options and settings to give players more control over their individual experience. With support for both the HTC VIVE and Oculus Rift VR headsets, there have never been more ways to see through the eyes and step into the shoes of BEYOND THE GRAVE.
About GUNGRAVE VR
In GUNGRAVE VR, players take control of undead assassin BEYOND THE GRAVE with his iconic pair of massive handguns, CERBERUS, and will have to master different playstyles to take down the various foes that stand in his way. Levels consist either of free-moving third-person gameplay or first-person action that includes both stationary and mobile sections, offering players a variety of modes putting them in the shoes of the resurrected Millennion agent himself. With an array of shooting attacks, close-range strikes using Grave's Death Coffin, slow-motion Reaper Time, and more, GUNGRAVE VR brings an authentic GUNGRAVE experience to virtual reality for the very first time.
GUNGRAVE VR and GUNGRAVE VR U.N is published on PC via Steam with support for Oculus Rift and HTC VIVE by XSEED Games, and it's now available. These titles were previously released for PlayStation VR on the PlayStation 4 computer entertainment system on December 11, 2018 in North America and on December 7, 2018 in Europe. These titles are rated T for Teen on PS4TM system by the ESRB, the PC versions are not rated by the ESRB.
For more information on XSEED Games products, please visit www.xseedgames.com or the product website at www.gungrave-vr.com. Fans can also follow XSEED Games on Facebook, Twitter, and via their blog on Tumblr.