Sweden - March 6th, 2019 - Coffee Stain Studios, original development studio behind Goat Simulator and Sanctum are pleased to reveal that Satisfactory, their immersive first-person factory builder will launch on PC on Epic Games Store Early Access on March 19th. Satisfactory has been in closed alpha since October 2018 and as of March 19th, FICSIT Inc. is inviting the wider Epic Games Store community to join the assembly line and help develop the future of interplanetary construction.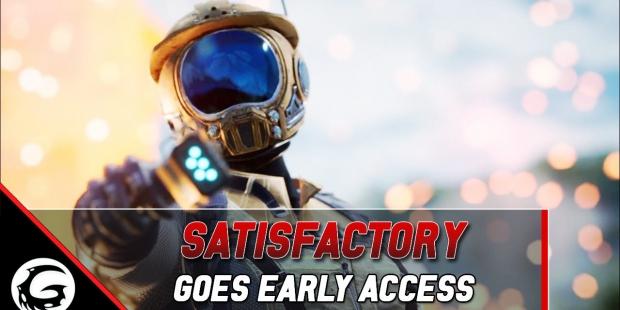 Satisfactory is an open-world factory building game with a dash of exploration and combat for 1-4 players. As employees of FICSIT Inc. enterprising space Pioneers are tasked with charting and exploiting a vast and diverse alien planet to construct and automate intricate multi-story factories. Players must also defend themselves against hostile alien lifeforms, automate vehicles and research new technologies to keep improving their constructs.
"We're a small team and Satisfactory is a hugely ambitious project which we've had our heart set on creating for a long time. There will be bugs and flaws but we've reached a point in development where the game is stable enough to offer an awesome experience and we're looking forward to inviting players to join us on this exciting Early Access journey," said Oscar Jilsen, Game Director at Coffee Stain Studios. "We can't wait to see what players build, both in terms of their own factories, and their vision for the future of the game."
Satisfactory is available for pre-purchase now for $29.95/EURO 29.99 exclusively via Epic Games Store.
Check out the live Satisfactory development roadmap at www.satisfactorygame.com
About Coffee Stain:
Coffee Stain is made up of three teams: Coffee Stain Studios, Coffee Stain North, and Coffee Stain Publishing.
Located in Skovde, Coffee Stain Studios was founded in 2010 and is the original team behind I Love Strawberries and the Sanctum games. They're also the creative minds behind the industry defying Goat Simulator games.
Stockholm based Coffee Stain North was founded in 2013 around the sleeper hit A Story About My Uncle. Since then, the team has taken Pilgor the goat on a journey from the zombie apocalypse into the deep reaches of space.
Coffee Stain Publishing, started in 2017, is currently working with Ghost Ship Games on Deep Rock Galactic, Easy Trigger Games on Huntdown and with CoastalByte on Puppet Fever.