Lian Li Industrial Co. Ltd is delighted to present the new PC-Q39 WX Mini-ITX mini tower chassis. The PC-Q39 is an evolution of the PC-Q37 and allows the use of ATX power supplies as well as triple slot graphics cards in a mini-ITX chassis. Internally, dedicated grommets for liquid cooling tubing have been placed in order to move reservoir and pumps to the wider secondary chamber. This enables motherboard, graphics card, and other main components to shine behind the tempered glass panel. Furthermore, the front panel has been upgraded and now features an USB 3.1 Type-C connector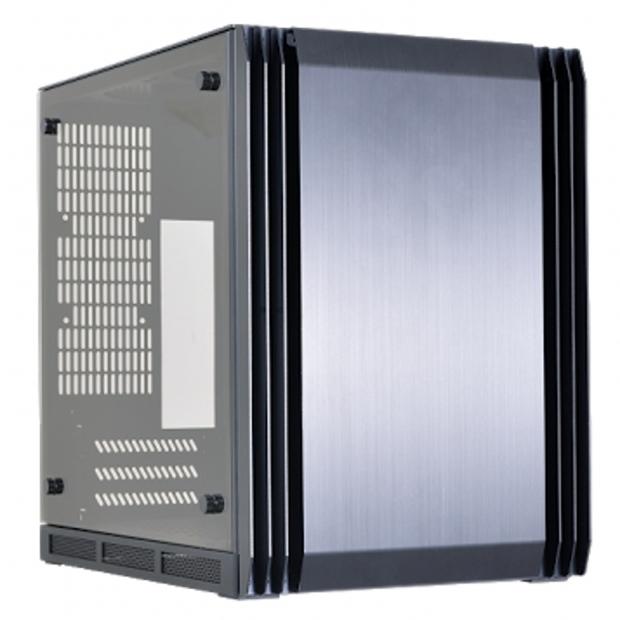 Mini-ITX case with ATX PSU
The PC-Q39 continues the traditional Lian Li design with dual chambers for extremely clean builds. The main compartment houses the Mini-ITX motherboard and graphics cards up to 320mm in length, while the second compartment has a tool-less drive rack for two 3.5" and one 2.5" drives, there is another one 2.5"in the back, and one on MB tray, totally three 2.5" drives. An ATX PSU up to 160mm in length and optional liquid cooling reservoir or pump. Two grommet holes in the motherboard allow liquid cooling tubing to pass between chambers. Five holes in the motherboard tray allow cabling to pass from the main to the secondary chamber for clean designs.
Mini-ITX with support for 240mm radiators
The PC-Q39 is slightly bigger than the PC-Q37 which allows it to house bigger components, like a full-size ATX PSU as well as triple slot graphics cards. Besides space for a 240mm radiator at the top, the bottom can also house two 120mm fans or a 140mm fan. All fan mounting points are covered by magnetically attached dust filters for easy cleaning and maintenance, while the front, top, and side-panels are easily removable thanks to Lian Li's patented rivet system.
Price and Availability
The PC-Q39 is available at Newegg.com for $209.99
Find detailed specifications for the PC-Q39
Last updated: Sep 1, 2017 at 12:58 am CDT