Toshiba America Electronic Components, Inc. (TAEC), a committed technology leader, will debut its demonstration of the new 64-layer BiCS FLASHTM 3D technology on an XG Series client Non-Volatile Memory ExpressTM (NVMeTM)
Peripheral Component Interconnect Express 3 (PCIe) SSD at Dell EMC World 2017, taking place May 8-11 in Las Vegas. Toshiba's latest BiCS FLASH delivers a mature combination of
performance, cost and endurance for all SSD types.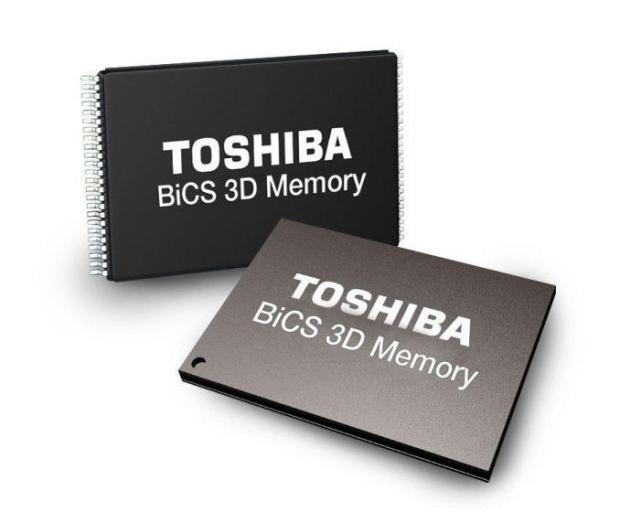 Toshiba BiCS FLASH 64-layer 3D technology offers high performance and endurance designed for client, data center and enterprise SSDs
BiCS FLASH is a three-dimensional (3D) flash memory stacked cell structure4 suitable for applications that require high capacity and performance, such as enterprise and consumer SSDs. The 512 gigabit (GB5) (64 gigabyte), 64-layer device with 3-bit-per-cell (TLC) technology was recently added to Toshiba's BiCS FLASH memory product line. The new BiCS FLASH is based on the third generation 64-layer stacking process featuring 65 percent greater bit density per mm2 than the company's 48-layer, 256GB (32 gigabyte) device.
The new XG Series SSD is an ideal platform to launch the 64-layer flash memory, due to the product's broad adoption, maturity and robustness, honed over multiple generations of PCIe/NVMe client SSD product releases.
"The future of SSDs is 3D," said Greg Wong, Founder and Principal Analyst of Forward Insights. "3D flash memory is enabling the production of higher capacity and more cost effective SSDs to better meet a variety of requirements across the consumer and enterprise spaces."
Toshiba is currently migrating all client, data center and enterprise SSDs to the newest BiCS FLASH 64-layer 3D memory. This migration sets Toshiba up for extending their recent recognition by IDC as the fastest growing storage device vendor in the $17 billion solid state drive (SSD) segment for 2016.
"Toshiba SSDs powered by the 64-layer 3D device and in-house controller increase value to our customer's products by boosting the maximum offered drive capacities and presenting superior speed, performance and endurance," said Shigenori Yanagi, SSD technology executive, at Toshiba Memory Corporation. "We are excited to first demonstrate our newest BiCS FLASH technology at Dell EMC World and provide a glimpse of 3D flash memory-based SSDs to come."
For more information on Toshiba's line of industry-leading SSDs, please visit:http://toshiba.semicon-storage.com/us/product/storage-products.html.
To learn more about Toshiba's storage solutions follow @ToshibaStorage on Twitter.
Last updated: Sep 1, 2017 at 12:58 am CDT