BIOSTAR is proud to announce the full line-up for the new 2nd-generation RACING series motherboards featuring support for Intel's 7th-generation Core processors. Following the announcement last week of the flagship RACING Z270GT9, today BIOSTAR proudly announces the different level products of the new RACING series family with the introduction of the RACING Z270GT8, RACING Z270GT6 and RACING Z270GT4 motherboards featuring the latest technology from BIOSTAR inspired by the quest for the best in gaming features. The 2nd-gen RACING series Z270 motherboard lineup brings a new level of gaming experience and performance-oriented motherboards to gamers and enthusiasts.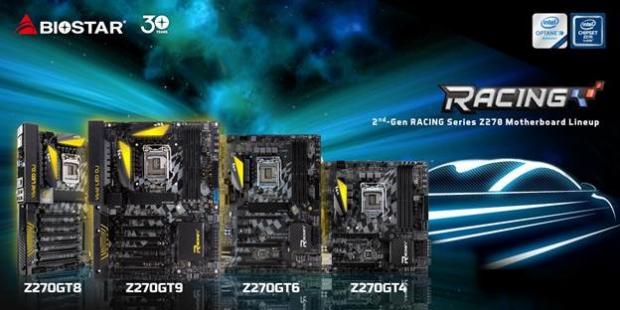 RACING Z270GT8
Standing at the top of the BIOSTAR's RACING series product stack is the flagship RACING Z270GT9 featuring all the best from the 2nd-Gen RACING series. Following it is the BIOSTAR RACING Z270GT8 which supports LGA1151 processors and DDR4 memory modules up to DDR4-3600 speeds and 64GB capacity. The RACING Z270GT8 has the integrated M.2 Cooling Protection by BIOSTAR which allows M.2 devices to operate on a lower temperature thus maintaining optimal performance even under harsh operating conditions. The BIOSTAR RACING Z270GT8 will be available as a bundle with the Intel 600p 256GB M.2 SSD with an MSRP of $329.
RACING Z270GT6
The BIOSTAR RACING Z270GT6 supports LGA1151 processors including Intel 7th-generation Core processors. The RACING Z270GT6 features the flashy VIVID LED Armor as well as the 5050 LED Fun Zone allowing gamers and enthusiasts to fully customize and tailor their rigs for their personal style. Intel LAN offers a robust networking solution guaranteeing incredible network performance for the most demanding online games. The BIOSTAR RACING Z270GT6 will come with a bundled BIOSTAR G300 Series 240GB SSD and will have an MSRP of $209.
RACING Z270GT4
The BIOSTAR Z270GT4 also supports 7th-generation Intel Core processors as well as the previous-gen processors but brings support for Intel Optane Memory which is a future-ready feature when the next-generation high-speed storage from Intel arrives in the market. Integrated Dual BIOS assures system integrity and prevents issues with the BIOS as well as possible infections that may harm the system. The BIOSTAR RACING Z270GT4 will come bundled with a BIOSTAR VIVID LED DJ fan and will have an MSRP of $129.
Experience Intense Armor Warfare with World of Tanks together with BIOSTAR RACING Series
Indulge in the most realistic armored warfare experience with BIOSTAR and World of Tanks as they bring gamers closer to the actual battlefield with superb performance. Enjoy the BIOSTAR advantage in World of Tanks when you buy a BIOSTAR RACING motherboard, VGA or gaming peripheral where you will receive an exclusive invite codes for premium gift packs for World of Tanks gamers in Asia server. Charge into battle with the BIOSTAR advantage.
BIOSTAR RACING 2nd-Gen Series Features
The full-wave of features from the 2nd-gen BIOSTAR motherboards echo throughout the series with M.2 Cooling Protection for optimal operating conditions for M.2 storage, Lightning Charger for fast charging of your mobile devices so you can get more of your PC instead of tying up the wall outlet. Another feature designed for overclockers is Digital Power+ for stable power delivery and endurance. For added style, all the new motherboards feature VIVID LED DJ support and 5050 LED Fun Zone with dual header for full customization freedom. Be future-ready with BIOSTAR RACING series for tomorrow's storage technology with built-in Intel Optane Memory support.
Break limits and enjoy uninhibited speed with BIOSTAR performance features that offer speed that gamers need to dominate their games. These new features will bring a new level of experience for gamers and enthusiasts.
Other features:
VIVID LED Armor (Z270GT8)
The new VIVID LED Armor enhances the Armor protection for the I/O interfaces and electronic audio components without static electricity. It comes integrated with onboard LED lighting for DIY fun. This feature also enhance performance as it keeps the system stable and protected from dust build-up and static interference.
VIVID LED DJ (Z270GT8, Z270GT6, Z270GT4)
Design your own LED effect with BIOSTAR VIVID LED DJ. Control your motherboard LED light via VIVID LED DJ utility including special effects like music-reactive LED animation.
5050 LED Fun Zone (Z270GT8, Z270GT6, Z270GT4)
The brand-new 5050 LED Fun Zone comes with two 5050 LED headers to bring more colorful lighting options to DIY lovers. This improves upon the original feature allowing for a much more flexible way of adding lights to your system.
Digital Power+ (Z270GT8)
Perfect for overclockers, Digital Power+ uses IR's digital power controller to bring your PC and processor exceptionally high-performance and ultra-stable operation. BIOSTAR RACING motherboards offer excellent stability and 100% fixed voltage delivery with exceptionally cool operating temperatures maintaining great reliability under load than competing designs.
M.2 Cooling Protection (Z270GT8, Z270GT6)
BIOSTAR RACING 2nd-generation motherboards will be the first to have an M.2 heat sink that features ultra-high cooling efficiency to protect M.2 devices connected to the onboard M.2 slot and chipset from thermal issues thus expanding M.2 device lifespan for long-term usage and overall stable operation even under high system load.
Dual High-Speed U.2 32Gb/s Connector (Z270GT8)
Two high-speed U.2 connectors that support the latest high-speed storage solutions allow this motherboard to utilize more storage giving you the option flexibility and scalability together with the speed that U.2 offers. This unique technology uses PCIe 3.0 x4 for a maximum of 32Gb/s of bandwidth resulting in transfer rates as fast as 6.5x more than traditional SATA solid state drives. Combine two for high-performance or high-integrity with RAID support. The motherboard supports RAID 0/1/5 configurations for security or speed.
Lightning Charger (Z270GT8)
The new 2nd-generation BIOSTAR RACING motherboards will be the first to have the new Lightning Charger which helps the battery of enabled devices, including smartphones or tablets, to achieve up to 75% charge in just 30 minutes. It supports QC2.0 (12V/1.5A output), Apple Mode (5V /2.4A) and BC1.2.
High-Speed Storage Bundle
To compliment the performance of this motherboard, BIOSTAR is also proud to be the first its special bundle for upgraders, enthusiasts and system builders upgrading to the new Intel 200-series platform which brings support for Intel's new Optane technology. Buy BIOSTAR RACING Z270GT8 or RACING Z270GT9 get Intel 600p series 256GB M.2 SSD, the latest storage technology from Intel running on PCIe Gen3 x4 speeds for unrivaled speeds versus traditional mechanical hard drives. BIOSTAR is offering this introductory promotion for everyone to experience the power of the new Intel platform offering incredibly amazing performance and great value together with BIOSTAR motherboards. BIOSTAR is the first brand to bring together this bundle and offer it to gamers for the best experience on their new systems.
Last updated: Sep 1, 2017 at 12:58 am CDT