Thermaltake proves its strong foothold in the tempered glass case market once again by introducing the new ATX Tempered Glass chassis View 31 TG and View 31 TG RGB at Thermaltake CES 2017 held at the Venetian Hotel Titian 2303 Suite from January 5th (Thu) to January 8th (Sun).

The View 31 TG is pre-installed with two patented Riing 14 Blue LED fans, and the View 31 TG RGB comes with three patented Riing 14 RGB LED fans giving users the option of 256 color selections while ensuring outstanding cooling performance. The View 31 TG Series features right and left tempered glass side panels to demonstrate the maximum visibility to show off internal components, and allows the Riing 14 LED fans to illuminate and add more excitement to your build.
Both of the cases are equipped with 3.5" tool-free drive bays with a modular drive rack to deliver ultimate storage capacity or liquid cooling expansion. The magnetic fan filter on the top and bottom fan filter perfectly protect the chassis against dust. The View 31 TG Series guarantees unparalleled expandability for high-end configurations and liquid cooling system to satisfy the market where users have opted for stylish PC chassis with advanced features and aesthetic appeal.
Exclusively "Tt LCS Certified"
Tt LCS Certified is a Thermaltake exclusive certification applied to products that pass the design and rigorous hardcore enthusiast standards that only the world's best LCS chassis are held to. The Tt LCS certification was created so that we at Thermaltake can clearly convey to power users and enthusiasts which chassis are built and tested to be best compatible under extreme liquid cooling configurations. This ensures you get the best performance, compatibility and features.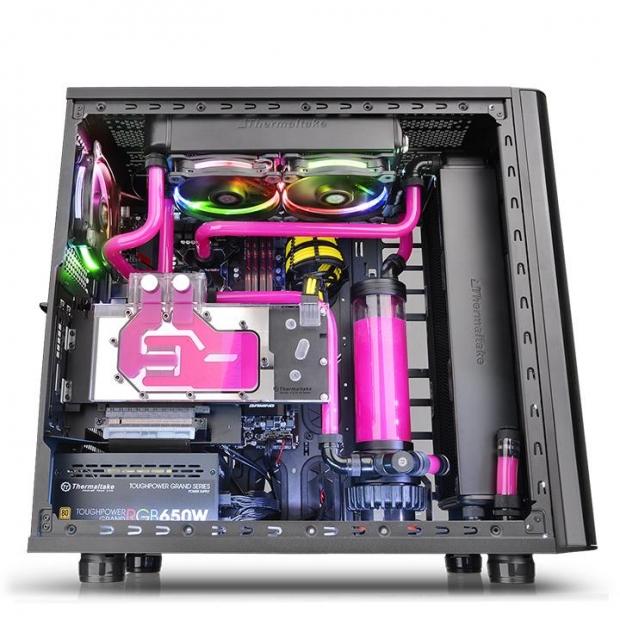 Features of the Thermaltake View 31 TG Series:
Tool-Free Installation
Innovative 3.5" tool-free drive bay design minimizes installation/removal with hidden drive bays on the back panel to provide a clean look and improved expansion for liquid cooling components. Modular rack with three trays allows multiple SSD/HDD devices for improved storage capacity.
Fully Modular Design
Gain more flexibility for custom cooling components with modular SSD/HDD cage for maximum interior space. Take advantage to include high-end, maximum capacity, cooling allotment without the reduction of GPU length limitations when incorporating liquid cooling expansion for the ultimate in cooling performance.
Dust Reduction
Super fine fan filters with excellent protection and reduction against dirt and dust at the bottom. Simply attach the Magnetic fan filter on the top for dust filtration.
Handy I/O Ports
Designed with convenience and cleanness in mind, the View 31 TG Series has a built in dual USB 3.0 and USB 2.0, a HD audio connector, power, and reset button, to grant a direct and easy access for external devices.
Advanced Ventilation
The View 31 TG Series delivers advanced cooling performance for DIY/AIO liquid cooling and air cooling systems. With wide top-to-bottom side ventilation grills, the View 31 TG maximizes the air intake with two built-in 140mm Riing 14 Blue LED fans while the View 31 TG RGB performs with three 140mm Riing 14 RGB fans. Both models include options for up to (3) 120mm or 140mm front fans, combined with (2) bottom mount 120mm fan locations for maximum fan space selection. Dissipate heat properly with (1) rear built-in 140mm fan and (3) sectional top mounts to manage proper air flow in and out.
High-End Complete Solution
The View 31 TG Series enables users to build a complete high-end system that supports up to triple 120mm, double 140mm liquid cooling radiators, and up to one 200mm case fans at the same time. With extended graphic card support (up to 360mm), the View 31 TG Series simultaneously protects the hardware and increases the CPU's overclocking potential for users looking to get the most out of their hardware. Most importantly, the View 31 TG Series delivers outstanding cooling efficiency, reduced exterior noise and dust signatures for ideal silent operation.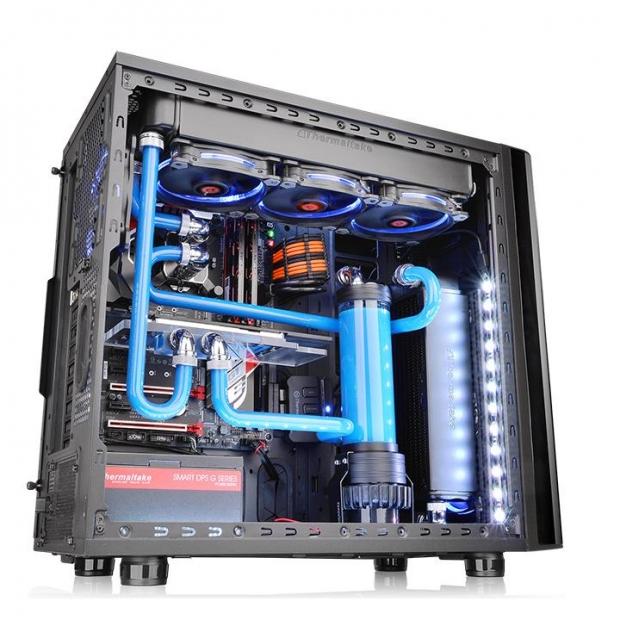 For more details on Thermaltake View 31 TG and View 31 TG RGB Mid-Tower Tempered Glass Chassis, please visit:
Thermaltake View 31 TG - http://www.thermaltake.com/products-model.aspx?id=C_00003012
Thermaltake View 31 TG RGB - http://www.thermaltake.com/products-model.aspx?id=C_00003011
Thermaltake View 31 TG and View 31 TG RGB Mid-Tower Tempered Glass Chassis Video Introduction: https://www.YouTube.com/watch?v=njAsK3dmJeU&feature=youtu.be
Thermaltake official website and community websites:
Thermaltake official website: http://www.thermaltake.com

Thermaltake Tt Community: http://community.thermaltake.com/

Thermaltake product video link: http://www.YouTube.com/user/Thermaltakereview

Thermaltake Facebook Fan Page: https://www.Facebook.com/ThermaltakeInc
Last updated: Sep 1, 2017 at 12:58 am CDT