Today at its fan-focused event, AMD (NASDAQ: AMD) unveiled new information and gave enthusiasts hands-on time with its upcoming high-performance desktop processors based on the innovative "Zen" core architecture (codenamed "Summit Ridge") in advance of the official launch in Q1 2017.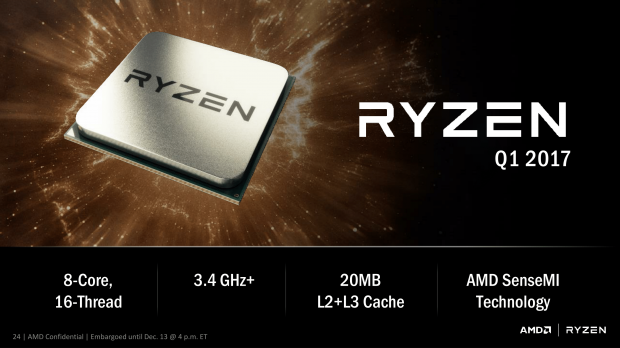 AMD reveals Brand Name, New Performance Details, and Adaptive Technology Features of Upcoming High-Performance Processors Based on "Zen" Core Architecture
Drawing inspiration from the core's name and AMD's desire to push high-performance CPUs to a new horizon, AMD introduced Ryzen, the brand which will span across "Zen"-based desktop and notebook processor families. Additionally, AMD introduced SenseMI, a set of sensing, adapting, and learning technologies built into the AMD Ryzen processor that combine with multiple other advances in architectural, platform, efficiency, and processing technology to address the demanding needs of gamers and enthusiast PC users.
"The 'Zen' core at the heart of our Ryzen processors is the result of focused execution and thousands of engineering hours designing and delivering a next-level experience for high-end PC and workstation users," said AMD President and CEO Dr. Lisa Su. "Ryzen processors with SenseMI technology represent the bold and determined spirit of innovation that drives everything we do at AMD."
AMD SenseMI technology is a key enabler of AMD's landmark increase of greater than 40 percent in instructions per clock1, and is comprised of five components:
Pure Power - more than 100 embedded sensors with accuracy to the millivolt, milliwatt, and single degree level of temperature enable optimal voltage, clock frequency, and operating mode with minimal energy consumption;

Precision Boost - smart logic that monitors integrated sensors and optimizes clock speeds, in increments as small as 25MHz, at up to a thousand times a second;

Extended Frequency Range (XFR) - when the system senses added cooling capability, XFR raises the Precision Boost frequency to enhance performance;

Neural Net Prediction - an artificial intelligence neural network that learns to predict what future pathway an application will take based on past runs;

Smart Prefetch - sophisticated learning algorithms that track software behavior to anticipate the needs of an application and prepare the data in advance.
Jim Anderson, senior vice president and general manager, Computing and Graphics Group, AMD, commented: "The desktop market is hungry for change as new and demanding use cases like VR, 3D modeling, and eSports require intense amounts of processing and graphics power. We designed Ryzen processors to excel in these areas and to bring much-needed innovation and competition back to desktop PCs."
The "New Horizon" fan event, hosted by gaming journalist and TV personality Geoff Keighley, showcased 8-core, 16-thread AMD Ryzen desktop processors running at 3.4GHz in a number of never-before-seen, hands-on demos of extreme performance and all-new features for digital creators, VR pioneers, game world explorers, and tech thrill-seekers, including:
For the first time, the upcoming Vega GPU architecture was demonstrated live to fans, powered by Ryzen playing Star Wars Battlefront - Rogue One at 4K resolution with smooth, high framerates.

Blender- and Handbrake-based image rendering and video transcoding demos showed that the new CPU can match or outperform the Intel Core i7 6900K - also an 8-core, 16-thread processor - in many complex creative tasks. The 140-watt TDP Core i7 6900K ran at stock processor speed and boost against a 95-watt TDP Ryzen processor at 3.4GHz without boost, showing the computing power and performance-per-watt efficiency of Ryzen.

Again at 3.4GHz, Ryzen was shown beating the game framerates of a Core i7 6900K playing Battlefield 1 at 4K resolution, with each CPU paired to an NVIDIA Titan X GPU.
AMD Ryzen processors for desktops are expected to be available beginning in Q1 2017 and AMD Ryzen notebook processors are planned to launch in 2H 2017.
Last updated: Sep 1, 2017 at 12:58 am CDT