ADATA Technology, a leading manufacturer of high performance DRAM modules and NAND Flash products, today launched theXPG SX8000 SSD, which uses an M.2 form factor loaded with 3D MLC NAND Flash and an SMI 2260controller. The SX8000 meets NVMe 1.2 specifications and connects directly to motherboards via PCI Express 3.0 x4 (PCIe 3x4) to deliver 2.4GB/s read and 1GB/s write, with 100K/140K IOPS. The SX8000 arrives in diverse capacities (128GB, 256GB, 512GB, and 1TB), ensuring a new generation of SSD performance is available to more users. A slightly faster version fitted with an attractive XPG heat sink will release by the end of October, promising an aesthetic bonus for case modding enthusiasts.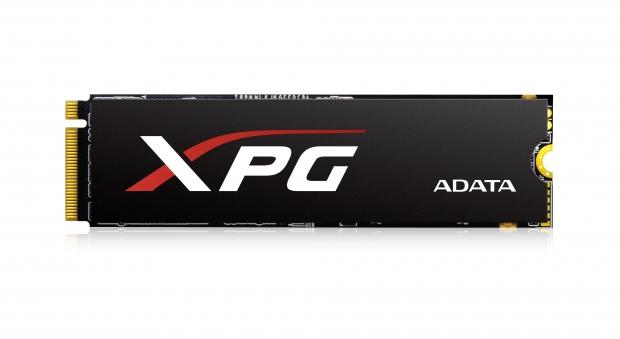 New performance and flexibility milestones set with 3D NAND and big bandwidth
Compact M.2 PCI 3x4 shatters speed barriers
The XPG SX8000 connects to desktop and notebook PCs via low profile M.2 2280 and channels data through PCI Express 3.0 x4 (four lane). The low latency and big bandwidth of PCIe enable up to 2.4GB/s read and 1GB/s write - four times the read and twice the write performance of average SATA 6Gb/s SSDs. Random 4K IOPS figures are 100K read and 140K write, also significantly more than SATA-based drives.
The SX8000 features full NVMe 1.2 compatibility, powering a large performance boost that means users notice gains in real-world scenarios, especially loading times within games that require heavy asset streaming and in professional applications such as graphics and audio rendering.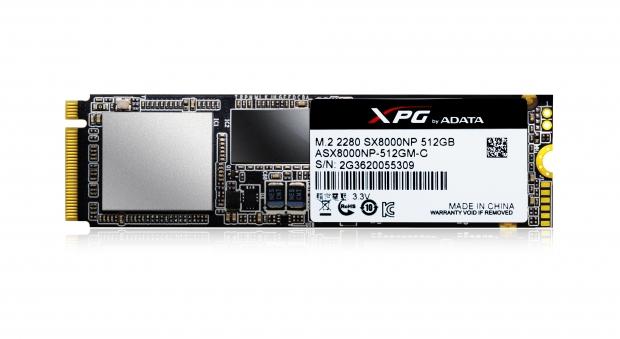 Flexible and durable 3D NAND
The SX8000 represents a new era not just in performance, but in its very architecture. It uses reliable 3D MLC NAND Flash, allowing ADATA to produce versions in capacities from 128GB to 1TB. With 3D NAND, reliability, performance, and efficiency all get a boost as more storage is fitted onto a smaller form factor without increasing power demands. The SX8000 features a 2 million hour MTBF (mean time between failures) rating, or 25% longer than 2D NAND SSD (which average 1.5 million hours).
Range of data-enhancing features
ADATA firmware design takes utmost data performance and integrity into consideration with every SSD. Intelligent SLC Caching allows the drive to operate in pseudo single-level cell mode for speed boosts when extreme data loads are encountered. It can also leverage system RAM to increase performance via DRAM Cache Buffer, helping maintain consistent throughput even during the most intense tasks.
LDPC ECC (low density parity check error correction) prevents data corruption and promotes integrity, while Data Shaping evenly distributes task loads across NAND Flash cells. The SX8000 is therefore a pioneer in performance that offers a complete package of reliability-augmenting features. It is backed by a 5-year warranty.
Availability
SX8000 PCIe will be available at Amazon.com and Newegg.com.
Product Webpage
SX8000 PCIe Express http://www.adata.com/en/SSD/feature/423
MSRP
SX8000 PCIe Express 128GB $129.99
SX8000 PCIe Express 256GB $189.99
SX8000 PCIe Express 512GB $319.99
Last updated: Sep 1, 2017 at 12:58 am CDT