Colorful Technology Company Limited, professional manufacturer of graphics cards and motherboards, proudly announces its feature-packed gaming motherboard: the iGame Z170 Ymir-G for the latest 6th-generation Intel Core processors. The latest part of the iGame family of high-performance products intended for gamers and enthusiasts, the iGAME Z170 Ymir-G motherboard boasts features for any and all kinds of gamers from modders to streamers.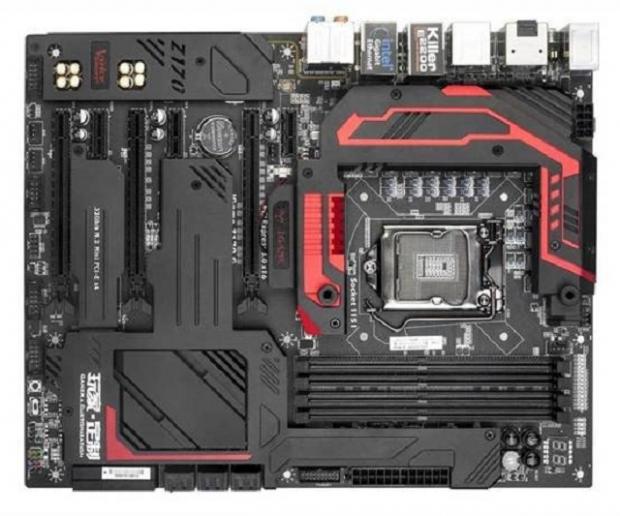 The COLORFUL iGAME Z170 Ymir-G motherboard loads everything a gamer needs and more into a single motherboard. Supporting 6th-generation Intel processors for the LGA1151 socket, this motherboard supports processors up to 125w and delivers solid power to the CPU thanks to its 14-phase power delivery design which also helps in stable overclocking.
The motherboard features rich connectivity options including a wide range of internal expansion and external I/O: high-speed storage via 32 Gb/s M.2 port, 16 Gb/s SATA Express ports, 10 Gb/s USB3.1 as well as USB Type-C, quick charge USB ports and dual-LAN support with both Intel i211 and Killer E2201 chips onboard.
The board supports multi-GPU solutions for extreme gaming with support for both NVIDIA SLI and AMD CrossFire configurations. For easy maintenance and power-user purpose, the COLORFUL iGAME Z170 Ymir-G has onboard buttons for Power, Reset, OC, Memory compatibility adjustment and CMOS reset.
All of this is presented in an aggressive black and red color scheme with LED light function available in red, green and blue lighting options.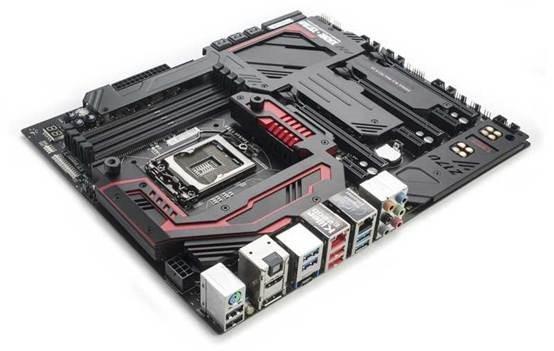 iGame Z170 Ymir-G Features
Robust power delivery - 14-phase power design built with reliable, high-performance components for excellent stability and reliability

Dual-LAN - Killer E2201 gaming-grade network chip and Intel i211 NIC both available onboard for maximum throughput, optimal network performance and bandwidth traffic management

Gamer Voice - professional Hi-Fi audio system featuring 120dB signal-to-noise ratio (SNR) hi-fi chip for clear and high power audio together with Nichicon Japanese capacitors.

Everything at your fingertips - dedicated physical buttons on-board for maintenance (power on/off, reset, CMOS clear) and a one-key overclocking button to instantly boost performance by up to 20-30%.

Dual BIOS - protect your system with dual BIOS ROMs. Switch and recover from a secondary BIOS or maintain to different BIOS versions for maximum compatibility.

Support for high-speed storage - SATA Express and M.2 ports allow users to utilize the latest in storage technology providing more bandwidth and transfer speed than conventional SATAIII speeds.

Multi-GPU support - scale your graphics performance with both NVIDIA and AMD multi-GPU solutions to power the most demanding games. NVIDIA 2-way SLI and AMD 3-way CrossfireX supported.

User-customizable LED lighting - tweak the lighting of the audio area to your own style with user-customizable multi-color LED lights
Colorful created the iGame series taking feedback from players' comments and suggestions to create a distinct product for every situation. The iGame series is Colorful's specialized product segment made for gamers, both mainstream and extreme.
Specifications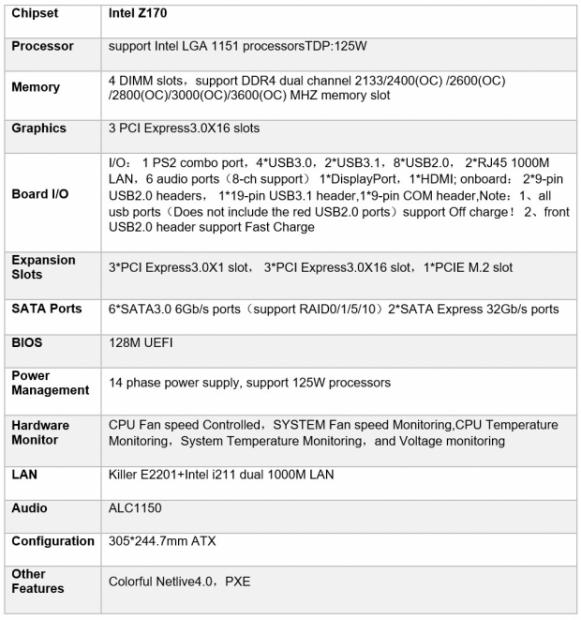 Last updated: Sep 1, 2017 at 12:58 am CDT