Toshiba America Electronic Components, Inc. (TAEC), a committed technology leader, will showcase its new BG series solid state drive (SSD) family featuring cutting-edge BiCS FLASH with 3-bit-per-cell TLC (triple-level cell) technology and Toshiba's new single-package ball grid array (BGA) NVMe PCI Express (PCIe) Gen3 x2 SSD at the 2016 Flash Memory Summit held in Santa Clara, California between August 8 - 11. Delivering a smaller footprint, lower power consumption and better performance than traditional storage options, the BG SSD series is purpose-built for the future wave of ultra-thin mobile PCs, including 2-in-1 convertible notebooks and tablets.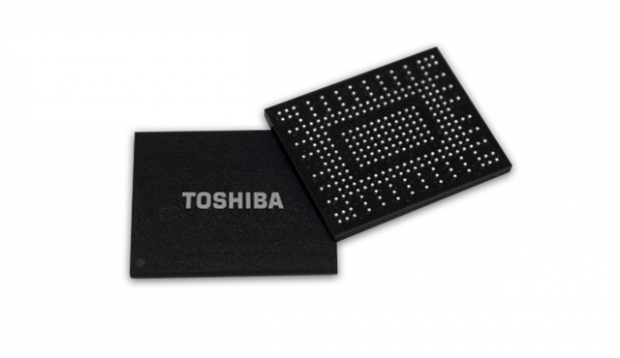 With a surface area 95 percent smaller than conventional 2.5-inch SATA storage devices and 82 percent smaller than M.2 Type 22806, the Toshiba BG series condenses both the controller and NAND flash memory in a single 16 mm x 20 mm BGA package enabling device manufacturers to prioritize features like battery capacity for longer operating times.
The BG series is also available mounted on a M.2 Type 22307 module for applications requiring socketed storage. BG SSDs utilize BiCS FLASH, a three-dimensional (3D) stacked cell structure, making it possible to accommodate up to 512 GB of storage capacity in this high-performance and compact form factor. Additionally, the BG series SSDs utilize an in-house Toshiba-developed controller and firmware for a full, vertically developed solution, ensuring technology is tightly integrated for optimal performance, power consumption and reliability.
"We are thrilled to unveil the new BG series with BiCS FLASH which will deliver both a rich feature-set and high performance all within an extremely small footprint and power profile," said Jeremy Werner, vice president of SSD marketing and product planning at Toshiba America Electronic Components, Inc.
"We expect to be in production this year with BiCS FLASH BGA SSDs, offering our customers a compelling and cost-effective storage solution for the next generation of high performance ultra-thin and light notebooks and tablets."
To deliver a more compact and power efficient drive, while still delivering excellent performance in client workloads, the BG series implements the latest NVMe standard Host Memory Buffer (HMB) feature which will be showcased during the 2016 Flash Memory Summit as a reference exhibition.
HMB allocates and employs host DRAM for flash management purposes in contrast to alternative solutions that contain costly and power-hungry dedicated DRAM to perform similar functions. Host Memory Buffer technology can enable increased performance over solutions without DRAM by storing lookup data on host memory to reduce access times for commonly accessed data.
The Toshiba BG SSD Family will be available in 128 GB, 256 GB or 512 GB capacities in both a 16 mm x 20 mm package (M.2 Type 1620) or a removable M.2 Type 2230 module. Samples of Toshiba BGA SSDs are initially available for limited PC OEM customers, and will be available for other customers to develop with in the fourth calendar quarter of 2016.
Last updated: Sep 1, 2017 at 12:58 am CDT