G.SKILL International Enterprise Co., Ltd., the world's leading manufacturer of extreme performance memory and gaming peripherals, is announcing the release of two new additions to the RIPJAWS series mechanical gaming keyboard product line with the feature-packed KM570 MX and the streamlined KM770 RGB mechanical keyboard.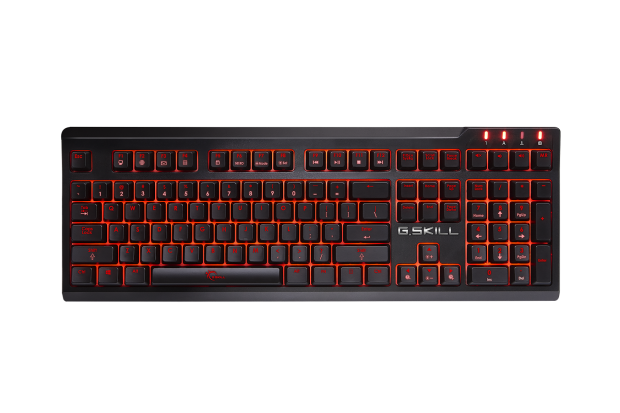 RIPJAWS KM570 MX Mechanical Gaming Keyboard
The new single-color LED lighting KM570 MX mechanical gaming keyboard is built with durability and ease-of-use in mind for daily gaming and working. Constructed with German-made Cherry MX key-switches, available in red, brown, and blue, ensures the durability of 50 million keypresses for years of comfortable typing experience. Additionally, removing the dependency on software by building the lighting customization and macro recording right into the hardware with the storage space for a complete profile, this keyboard is the ultimate keyboard to take on-the-go.
The new KM570 MX also features 7 different lighting effect presets with the ability to customize brightness and speed, the capability to easily create your own per-key lighting pattern, and all the great keyboard features that makes life easier, such as built-in media control, dedicated volume control, n-key rollover & 100% anti-ghosting, a default 1000Hz polling rate, Windows key lock, and a long 2m braided USB cable. This is the ideal keyboard for anyone who is looking for their first Cherry MX mechanical keyboard, without having to worry about system or software compatibility.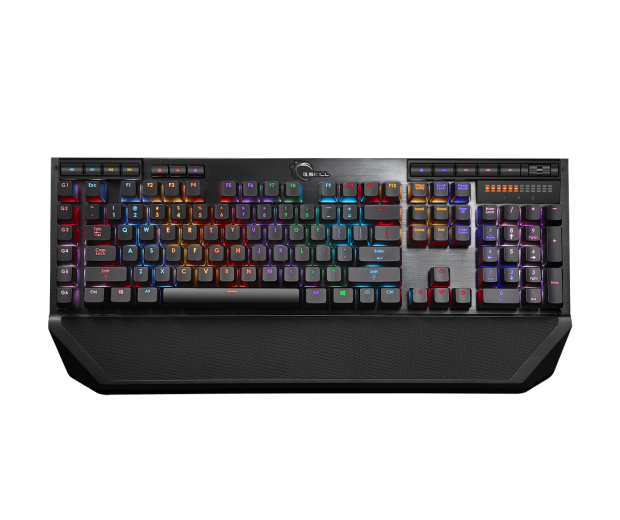 RIPJAWS KM770 RGB Mechanical Gaming Keyboard
The RIPJAWS KM770 RGB mechanical gaming keyboard is the streamlined and revised version of the KM780 RGB flagship. While retaining the same key features and the brushed aluminum top-plate construction, the KM770 RGB has been remodeled with a smaller footprint of a standard keyboard, and the mouse cable holder has been redesigned to fit underneath the keyboard with cable grooves for easier desktop cable management.
A major update to the KM770 RGB uses a new LED lighting design that produces more vibrant colors than its predecessor, as well as the addition of RGB customization to the MR/Mode keys, special hotkeys, and media control keys in the top row. And through a firmware update, early adopters of the KM780 RGB mechanical gaming keyboard can also enjoy the same RGB lighting in the top row keys. Additionally, with the new software update, both the KM770 RGB and KM780 RGB keyboards will enjoy full RGB color support through a customizable color palette, as well as a fully customizable base color for the Ripple and Reactive lighting effects.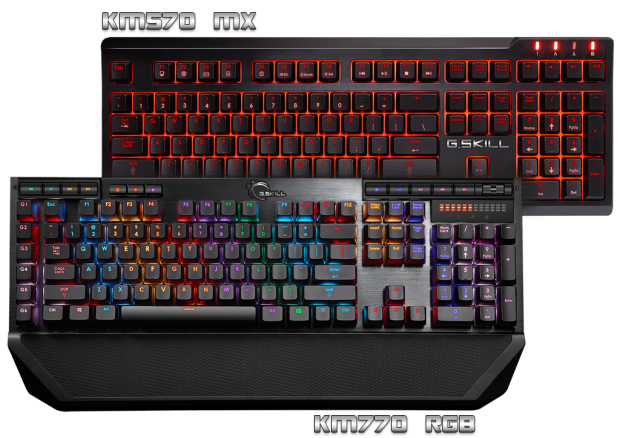 Availability
The RIPJAWS KM770 RGB and KM570 MX mechanical gaming keyboards will be available by the end of Q3 2016, with flavors of Cherry Red, Brown, and Blue, via authorized G.SKILL distribution partners.
Last updated: Apr 7, 2020 at 12:11 pm CDT