BIOSTAR proudly introduces its latest Hi-Fi series motherboard intended for gaming and multimedia enthusiasts. With a balance of features and performance, the BIOSTAR Hi-Fi B150S5 offers those looking for a foundation for their next movie and gaming system to get the most of out their experience.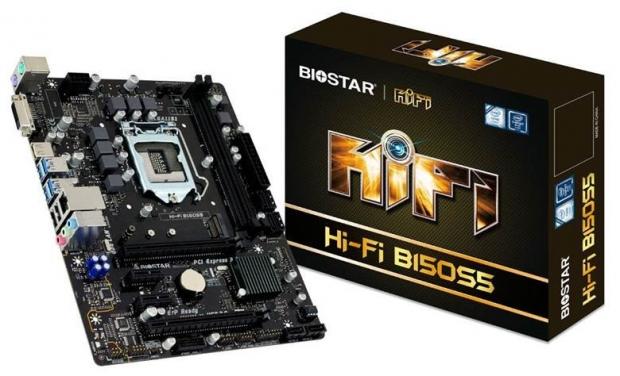 With support for the latest 6th-gen Intel Core processors and support for PCI-e 3.0 devices, experience gaming like only BIOSTAR Hi-Fi can give with a full-immersive audio and visual experience powered by the latest processors and DDR4 memory up to a maximum of 32GB. The BIOSTAR Hi-Fi B150S5 highlights further its performance capabilities with options for utilizing high-speed storage via an onboard M.2 slot. With BIOSTAR Hi-Fi technology, immerse yourself in a truly unique visual and audio experience with BIOSTAR's premium audio solution, which provides clean and crisp sounds perfect for listening to music and in-game audio as well as watching movies.
The Hi-Fi Zone Design
BIOSTAR's innovation on its Hi-Fi design takes audio to another level with exclusive hardware and software design including ground-isolation circuit design and a fully independent audio power delivery system as well as a built-in amplifier. All these additions give users the best audio quality and performance. On the software side, BIOSTAR bundles the Multi-Channel Calibration application which is normally found in high-end sound systems but is offered completely free with your BIOSTAR Hi-Fi motherboard. This feature allows you to detect your location and adjust the volume level of every speaker to create a balanced audio environment aided by the built-in audio amplifier for powerful sound compared to other motherboards.
A combination of exclusive hardware & software design including "ground-isolation circuit design","an independent audio power", and "a built-on-board amplifier", with all these hardware features gives you the best audio quality and performance. As for software, we offer you a free bundle utility "Multi-Channel Calibration" which normally you'll find in high level sound systems; this feature allows you to auto detect your location; with a user friendly interface, you can easily adjust the volume of every speakers to make a well balanced surround sound. And of course, the built-on-board amplifier always gives you a super powerful sound comparing to other motherboards.
Blu Ray Audio
Upgrade your system's audio performance by using BIOSTAR motherboards. With support for Blu-ray audio DRM, BIOSTAR Hi-Fi motherboard have higher audio output of 24 bit/192Khz. A true high-level experience with pure Blu-ray audio.
Video+:
For online game lovers, The Hi-Fi B150S5 supports DirectX 12 which introduces the next version of Direct3D, the graphics API at the heart of DirectX. Direct3D is one of the most critical pieces of a game or game engine, and we've redesigned it to be faster and more efficient than ever before. Direct3D 12 enables richer scenes, more objects, and full utilization of modern GPU hardware.
Speed+:
With PCI-E 3.0 technology, there is 2 times the bandwidth of PCI-E 2.0 and allows for up to 1GB/s of bandwidth per lane per direction. USB 3.0 is also available allowing 10x faster transfers than USB 2.0 but retains backwards compatibility for these devices.
For more information, visit the product page.
Last updated: Apr 7, 2020 at 12:11 pm CDT