Performance meets style with the new Malik Customs Edition of Fortis 3 CPU Cooler - the fruit of collaboration between SilentiumPC and Malik, owner of Malik Customs, world renowned custom system builder and hardware photographer. Based on the regular model it offers unparalleled thermal capabilities coupled with new level of customizability and aesthetics. The heat sink is coated in dark nickel and it's complimented by interchangeable top plates. Four different color plates are included to match the cooler with most popular high-end components.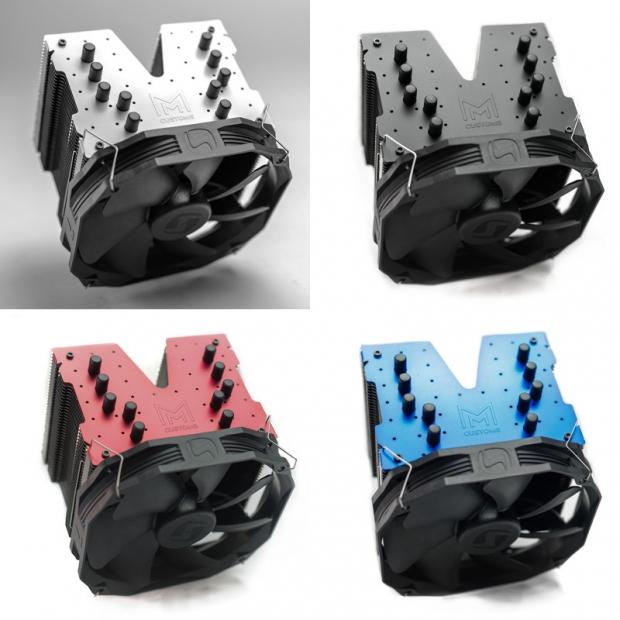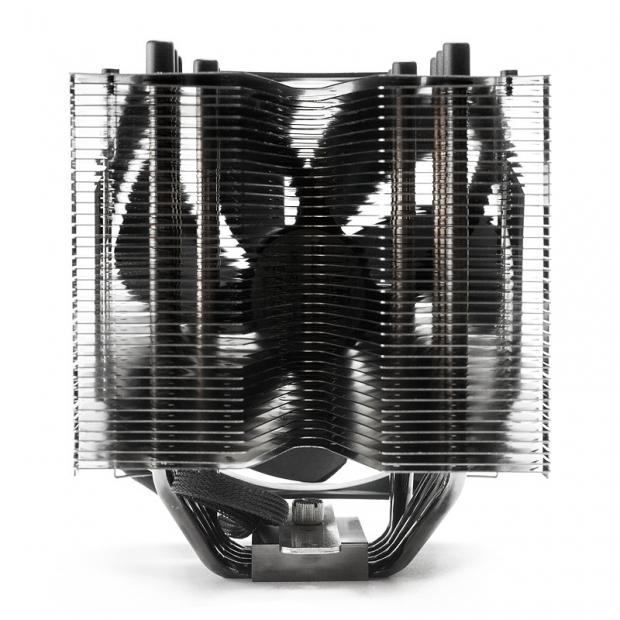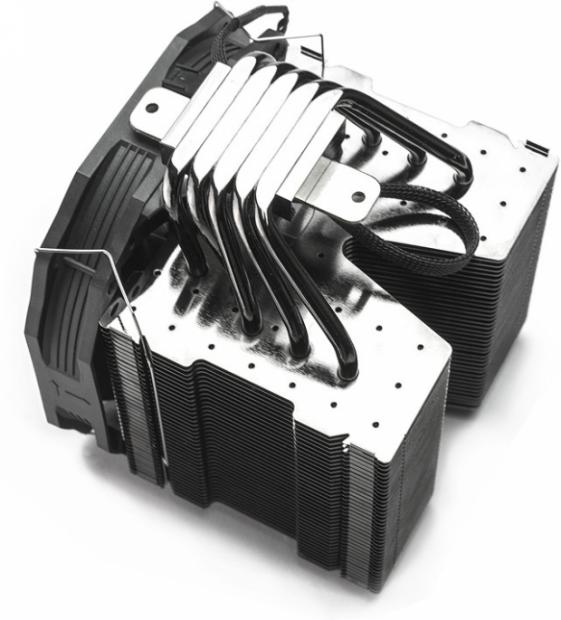 Fortis 3 HE1425 MCE is a large single tower type cooler with top tier performance at moderate price point. Engineered to achieve optimal balance between heat dissipation and airflow it uses five ÃŽÃ,¦6mm high performance heat pipes transferring heat efficiently to 38 aluminum fins. In terms of styling we decided to black-out the logos giving the cooler stealth and professional look.
Compatibility beyond size
Despite the overall size of the cooler we managed to ensure ultimate compatibility with other components. Most distinctive feature is an asymmetric heat sink design allowing to accommodate tall high-end RAM modules. Utilizing low-profile mounting screws and being only 158 mm in height the Fortis 3 HE1425 MCE is one of the most compact coolers equipped with 140mm fan. That means it can be successfully fitted inside most PC cases on the market.
All-new Sigma cooling fan
Fortis 3 comes bundled with SilentiumPC Sigma PRO 140, a new fan designed specifically for this application it features new blade design and 500 ~ 1400 speed range perfectly matched with heat sink's thermal capabilities. Inaudible in normal operation it provides sufficient airflow for cooling down demanding CPUs. For even more airflow advanced users can install an optional 120/140mm fan using extra pair of mounting clips included in the package.
Fast & secure installation
The cooler utilizes SilentiumPC's proven and highly praised multi-socket mounting mechanism. A simple yet effective combination of robust backplate, brackets and screws allows Fortis 3 to be quickly and securely installed onto the motherboard. The kit also contains an uprated Pactum PT-1 thermal compound. Large V-shape heat sink cutout not only gives the cooler its unique look but also provides better access to rear locking screw.
Compatibility list includes all modern AMD & Intel platforms as well as the latest intel Skylake 1151 socket. Included picture-by-picture and online video manuals will guide you seamlessly through the quick installation process.
Key features:
Malik Customs Logos and packaging

Dark nickel plated heat sink

Interchangeable top plates for color matching with other components

High-performance single tower CPU cooler

Asymmetric design for ultimate compatibility with RAM modules

140mm PWM-controlled Sigma PRO fan for quiet operation

Secure and straightforward installation on Intel & AMD platforms including 1151 Skylake
Tech specs:
Dimensions (heat sink only): 125mm(L) x 125mm(W) x 158mm(H)

Dimensions (with fan): 125mm(L) x 140mm(W) x 158mm(H)

Weight (with fan): 820 g

Gross weight: 1466 g

Heatsink: 5 x ÃŽÃ,¦6mm heat pipes, 38 x aluminum fins

Fan: 140 x 140 x 25mm (with 120 x 120mm mounting holes)

Bearing type: HSB / Hydraulic

Fan speed: 500 - 1400 RPM +/- 10%

Rated voltage: 12V

Rated current: 0.15 A

Air flow: 78,6 CFM @ 1400 RPM

Noise level: 8 ~ 22 dBA

MTBF: 50000h

Connector: 4-pin PWM
Additional information:
Model name: SilentiumPC Fortis 3 HE1425 Malik Customs Edition CPU Cooler

Product code: SPC138

EAN: 5904730204378

Warranty: 24 months

MSRP incl. VAT: 49,99 EUR / 1329,00 CZK / 209,00 PLN / 39,00 GBP

MSRP excl. tax: 45,00 USD

Q-ty per master carton: 12 pcs.
Last updated: Apr 7, 2020 at 12:10 pm CDT