AMD marks a major step towards delivering choice and innovation in the data center with the launch of the AMD Opteron A1100 System-on-Chip (SoC), formerly codenamed "Seattle". Jointly with its software and hardware partners, AMD is accelerating time-to-deployment of ARM-based systems and driving forward ecosystem support for ARM in the data center.
"The ecosystem for ARM in the data center is approaching an inflection point and the addition of AMD's high-performance processor is another strong step forward for customers looking for a data center-class ARM solution," said Scott Aylor, corporate vice president and general manager, Enterprise Solutions, AMD. "The macro trend of convergence between networking, storage and servers is an important catalyst in this evolution. Customers now have access to 64-bit ARM processors from the only silicon provider that also has decades of experience delivering professional enterprise and embedded products."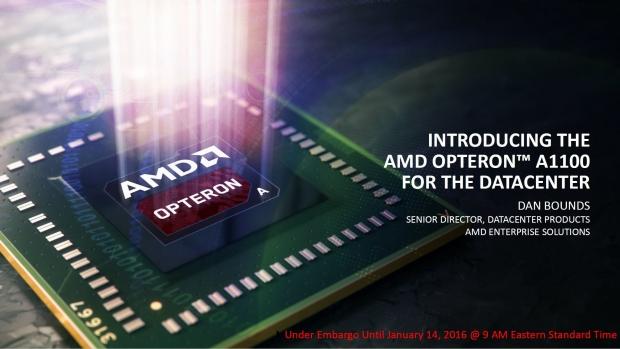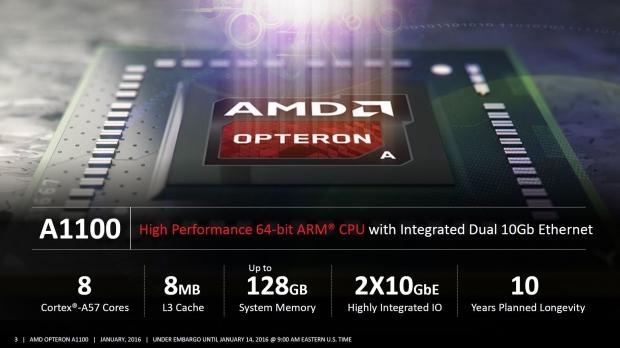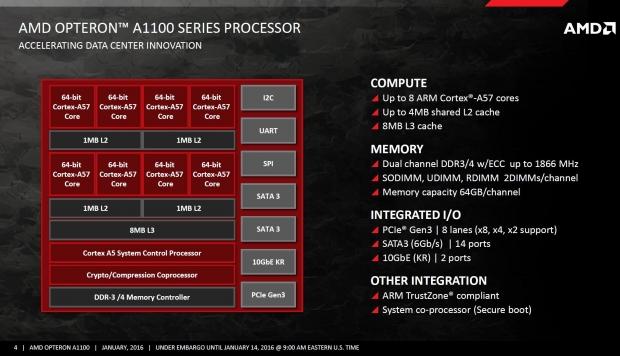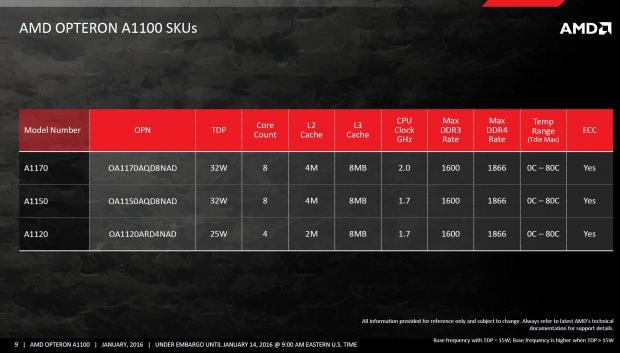 The AMD Opteron A1100 SoC represents a key milestone for establishing ARM in the data center as well. "The AMD Opteron A1100 processor brings a new choice in scalability across network infrastructure and data centers," said Lakshmi Mandyam, director of server systems and ecosystems, ARM. "AMD brings recognized expertise in the server and embedded markets, making them an ideal partner to deliver a 64-bit ARM processor with the impressive balance of performance and power-efficiency to address an increasingly diverse set of workloads."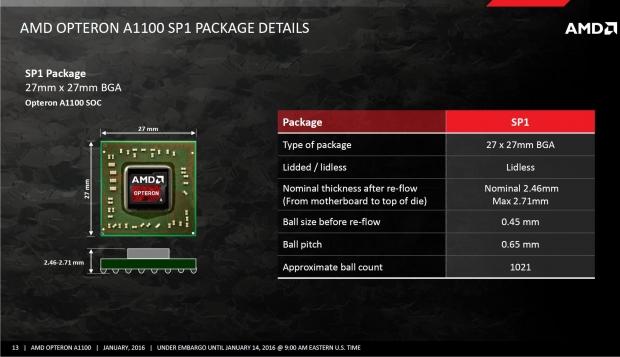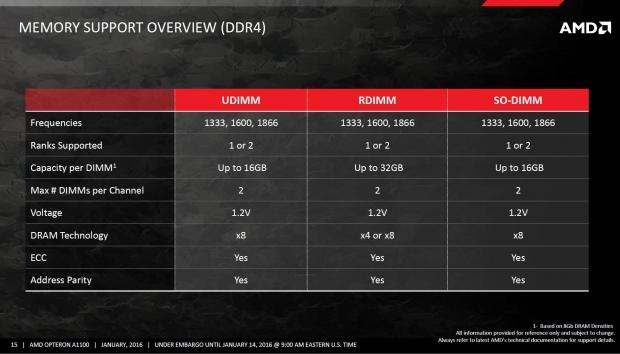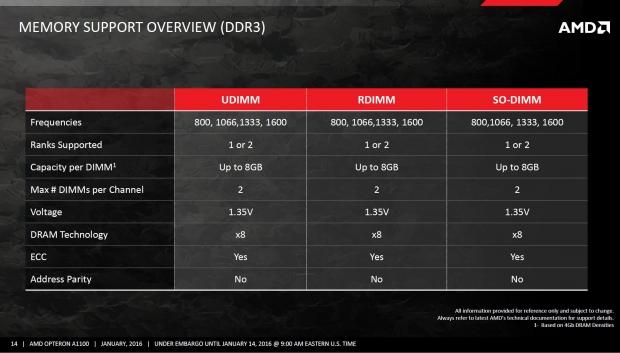 AMD Opteron A1100 Series SoC specifications:
Up to eight ARM Cortex-A57 cores with 4MB shared Level 2 and 8MB of shared Level 3 cache

2x 64-bit DDR3/DDR4 channels supporting up to 1866 MHz with ECC

2x 10Gb Ethernet network connectivity

8-lane PCI-Express Gen 3

14x SATA 6 Gb/s ports
The AMD Opteron A1100 SoC is powering enterprise-class systems from SoftIron with its Overdrive3000 system for developers, as well as an upcoming lineup of Software Defined Storage solutions taking advantage of the processor's rich feature set.
"The secret of the AMD Opteron A1100 SoC's appeal is not just the cores, it's everything around the cores," said Norman Fraser, CEO of SoftIron. "If you've got an application where you need to move large amounts of data around quickly, you're going to love it."
AMD is also collaborating with Silver Lining Solutions (SLS) to integrate SLS' fabric technology in innovative dense server designs featuring the Opteron A1100 Series, targeted at streaming, web, and storage workloads for cloud and hyperscale datacenters. The SLS Fabric Interconnect incorporates a low-latency, energy efficient 60Gbps switching fabric and is available as a PCI Express expansion card or a standalone ASIC for custom server applications.
"We are very excited about working with AMD to bring power efficient fabric-based computing to market," said Dr. Ping-Kank Hsiung, Managing Director of Silver Lining Systems. "Combining the efficient AMD Opteron A1100 processor with our unique fabric will help drive down costs and power requirements of hyper scale computing and storage."
In addition to silicon innovation, AMD has been instrumental in supporting the 64-bit ARM software ecosystem, a critical component to any new processor, and has been working closely with Enterprise Linux leaders Red Hat and SUSE on operating system and application support.
"Red Hat and AMD share a vision of building an open, standards-based software ecosystem for highly converged designs based on 64-bit ARM architecture. As one of the first participants in Red Hat's ARM Partner Early Access Program, AMD has been instrumental in the testing and porting of the world's leading enterprise Linux platform to 64-bit ARM architecture", said Ranga Rangachari, vice president and general manager, Storage, Red Hat. "The arrival of the AMD Opteron A1100 SoC represents a major milestone to the ecosystem interested in driving converged infrastructure for storage, networking, and compute."
The AMD Opteron A1100 SoC has been in advanced development with technology partners and customers for several quarters and is available in mass production quantities today.
Last updated: Apr 7, 2020 at 12:10 pm CDT