Privoro, a new technology company founded on the principle of standing on the right side of privacy - yours - announces its entry into the privacy protection market. Today Privoro introduces two devices as part of a series of new solutions designed to safeguard personal and professional privacy and enable information security on smartphones and desktop computers. These technologies help you to protect when and where you share your sensitive information. Privoro's suite of privacy guard products makes its official debut at Pepcom's Digital Experience on January 5 at the Mirage in Las Vegas.
With proprietary, patent-pending technology, Privoro products are engineered to deliver three types of protection against intrusion and location tracking, which can occur through the microphones and cameras in digital devices and from Radio Frequency (RF) signals. Privoro protects what you say, what you see and where you go. The company has also developed thePrivoro App, which provides verification testing for peace of mind.
"I began this journey when I realized the vulnerabilities of smartphones," says Mike Fong, Founder and CEO of Privoro. "Many of the most common apps on the market today request access to your camera, microphone or location. The rise in digital assistants like Siri and Cortana is helpful, but many people may not be comfortable with their listening capabilities. When I started looking into information security, I found some software solutions, but no easy-to-integrate and highly secure hardware solutions."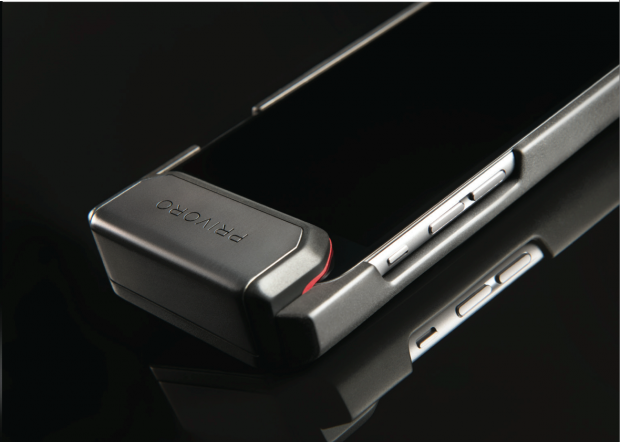 With Fong's revelation two years ago, Privoro set out to design intuitive solutions that protect against real-world security threats. A team of seasoned experts in engineering and industrial design have worked diligently to deliver simple-to-use yet highly sophisticated devices that are designed to effectively empower people and businesses to retain their right to privacy.
"You know when someone has broken into your home, but you have NO idea when someone's broken into your phone or may be watching you from the computer in your kitchen," says Fong. "Privoro's privacy guard provides you with validation, peace of mind and empowerment to choose when, where and with whom you decide to share information."
Privoro Privacy Guard for Smartphones
Our privacy guard for smartphones is comprised of two components: a case and a cover. This two-component system forms a virtually impenetrable Faraday cage, making the phone undetectable from cell towers, Wi-Fi hotspots or via other RF technologies used by your phone. Its easy-to-use form factor is designed to deliver unsurpassed 110+ dB levels of RF protection against location tracking and RF hacking. This means that the privacy guard reduces RF energy reaching your phone to essentially indistinguishable levels. This is the maximum level of protection on the market today. When the Active Audio Masking feature is engaged, our proprietary audio jamming technology transmits different sounds to each microphone, making eavesdropping nearly impossible.
Features
Available for pre-order; expected to begin shipping by spring 2016

Speech intelligibility masking up to 89 dBA

Speech presence masking up to 84 dBA

110+ dB of RF protection

Battery life of 48-72 hours

Composite and aluminum construction

Micro USB charge interface

Active Audio Masking for all microphones

Designed to work with iPhone 6/6S
Privoro Privacy Guard for Desktop Computers
Perhaps the most sophisticated security device ever made for desktop computers, the privacy guard connects directly to the top of the display monitor. Its Active Audio Masking technology jams the top and back audio microphones and blocks the computer's camera using a shutter mechanism, protecting your business and personal life from audio and video surveillance. The shutter feature makes it easy to instantly disable or enable camera functionality.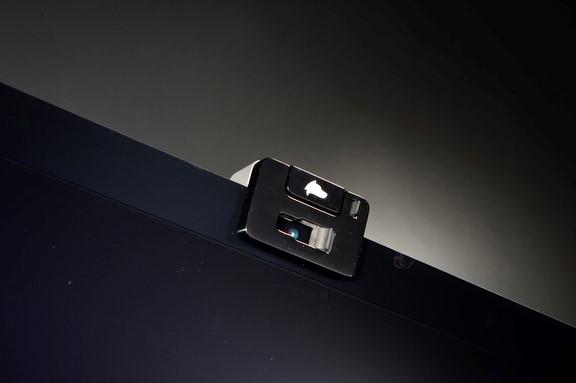 Features
Available for pre-order in Q1 2016

Speech intelligibility masking up to 89 dBA

Speech presence masking up to 84 dBA

Composite and die cast aluminum housing

Micro USB charge interface

Active Audio Masking for all microphones

Designed to work with iMac monitors (21.5", 27")
Market Need
"You may think you have nothing to hide, but the reality is, you have everything to protect," says Privoro CEO Fong. "What could be more important than the details of your life and work? Your ideas, your company's intellectual property and the up-to-the second location and movements of your friends, family, colleagues and yourself? Privacy is a basic human right. We give you a choice in what you share."
Last updated: Apr 7, 2020 at 12:10 pm CDT