Cohesive Networks today announced the availability of VNS3 in HPE's Cloud28+ "cloud of clouds" Catalogue. Cohesive Networks are exhibiting VNS3's capabilities 1- 3 December as part of the Cloud28+ participants at the HPE Discover event in London.
"As part of the Cloud28+ initiative, we look forward to helping more European enterprise customers meet the security standard for their industries and geographies," said Chris Purrington, Managing Director and Head of Sales at Cohesive Networks. "The Cloud28+ catalogue helps our shared customers quickly discover valuable services pre-approved for European markets."
The Cloud28+ initiative is a unified catalogue of cloud services that brings together European cloud providers, builders, and developers. The Cloud28+ Catalogue features services and local cloud providers in more than 28 different European countries, and complies with local and EU security and privacy data regulations.
VNS3 can add value to European customers seeking enhanced cloud network connectivity and security solutions. European-focused security regulation, such as the EU Data Protection Directive, require additional focus on strong encryption, cipher key ownership, and greater network control.
Cohesive Networks have been "Certified HP Helion Ready" for the HP Public Cloud since December 2014, and currently work with HP to provide VNS3 security and networking products to HPE Cloud customers.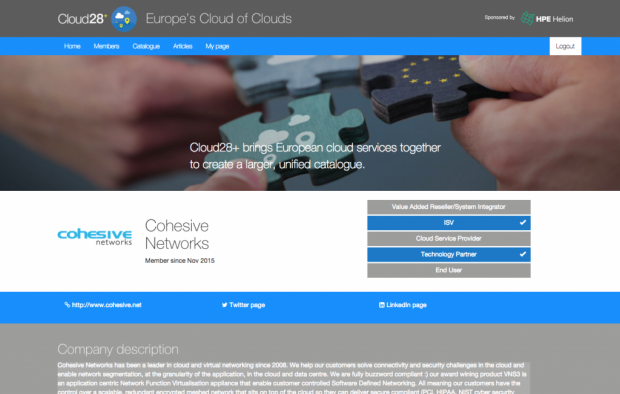 Last updated: Jul 27, 2022 at 03:42 am CDT