Microsoft DirectX 11 highlights emerge
Developers tempted to take speed?
Published Tue, Jul 22 2008 9:03 PM CDT
|
Updated Tue, Nov 3 2020 12:38 PM CST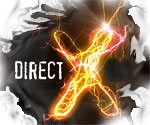 Even though DirectX 10 is still quite fresh in developers minds, Microsoft are already making a push to bring more advancements in the form of DirectX 11. The company has today announced some initial details about it which Shacknews have
shared out here
.
One particular and expected highlight of DX11 is tessellation support which as far as I know is already being used in current-gen consoles such as the 360. It
blurs the line between super high quality pre-rendered scenes and scenes rendered in real-time, allowing game developers to refine models to be smoother and more attractive when seen up close
.
There are a number of other interesting additions MS is working on for the new API; these include:
- Full support (including all DX11 hardware features) on Windows Vista as well as future versions of Windows
- Compatibility with DirectX 10 and 10.1 hardware, as well as support for new DirectX 11 hardware
- New compute shader technology that lays the groundwork for the GPU to be used for more than just 3D graphics, so that developers can take advantage of the graphics card as a parallel processor
- Multi-threaded resource handling that will allow games to better take advantage of multi-core machines
It also goes without saying that XP users will be left out in the cold on this one. You can get the
full scoop here
.
Software giant Microsoft today revealed details concerning DirectX 11, the latest edition of its PC gaming graphics API.

Similar to DirectX 10, the software will be available only on Windows Vista and future versions of Microsoft's operating system. DirectX 11 will add new compute shader technology that Microsoft says will allow GPUs to be used "for more than just 3D graphics," allowing developers to utilize video cards as parallel processors.
Related Tags