This year, we've seen some impressive performance improvements and driver releases for the Intel Arc lineup of discrete graphics cards from the engineers at Intel. From sizable performance gains in modern titles like Starfield to how the GPUs handle DirectX 11 with triple-digit performance improvements in older games like Halo: The Master Chief Collection, Yakuza 0, and Guild Wars 2.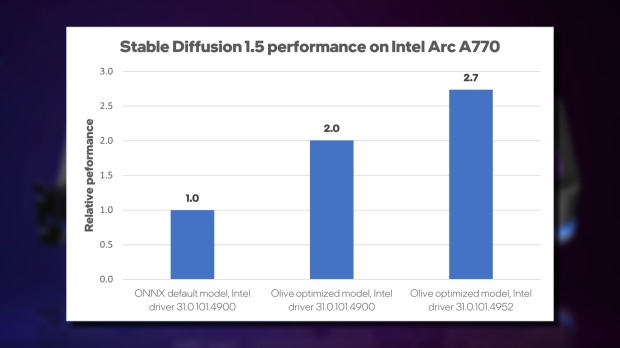 The latest update and driver release for Intel Arc A-Series graphics cards introduces another massive performance increase in the region of 2.7X on the flagship Intel Arc A770 GPU. However, this one is all about AI, with the gains coming from Intel working closely with Microsoft to bring optimizations to DirectML for Intel Arc.
To demonstrate the buff, which uses Microsoft's open-source Olive tool for AI optimization, the Olive-optimized Stable Diffusion XL text-to-image generator from Stability AI sees up to a 2.7X increase in performance on the Intel Arc A770 after you factor in additional driver improvements.
Olive is a wonderful tool for AI because it takes machine learning, like Stable Diffusion, and can work out how various bits of hardware can accelerate it. Like everything, AI benefits the most when hardware and software come together. Intel's hardware, like the Intel Arc A770 with its 16GB of VRAM, features AI acceleration hardware called Intel Xe Matrix Extensions or Intel XMX. Dedicated AI hardware like NVIDIA's Tensor Cores can be leveraged to speed up AI processing.
"Intel has been a key partner for many years, and we're happy to see that collaboration extend into the exciting domain of generative AI," said Bryan Langley, Partner Group Product Manager at Microsoft. "By working with Intel on optimizing for its hardware, we can help ensure developers have a broad and scalable base of client systems on which to deploy next-generation AI capabilities."
The new driver release supports the Olive-optimized versions of Stable Diffusion XL and Llama 2, with additional optimizations coming soon. Olive optimization played an important role in improving Stable Diffusion performance on GeForce RTX hardware earlier this year, with NVIDIA announcing a 2X performance increase in May.