Earlier this year, Intel delivered a significant driver release for its Intel Arc graphics cards, where, alongside a price drop, the mainstream Intel Arc A750 became a true competitor to NVIDIA's popular GeForce RTX 3060. This February driver release focused on DirectX 9 and some of the most popular games that use this aging API, like League of Legends, The Elder Scrolls V: Skyrim, and CS:GO.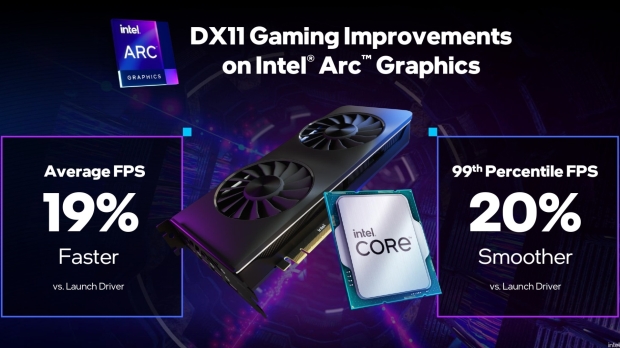 The update brought a massive 43% performance improvement (on average) to some of the most popular DX9 games still being played in 2023. And even though Intel has released 30 new driver updates for the Intel Arc range since the GPUs first appeared late last year, with most major PC game releases getting day-one driver support, today we've got another milestone driver release - this time focusing on DirectX 11 performance.
And it's another big bump to overall performance on the Intel Arc A750 - with an average 19% improvement to 1080p performance across some of the most popular DirectX 11 titles played today. Apex Legends sees an impressive 17% improvement in performance, with titles like GTA V and Overwatch 2 seeing the most significant gains with 27% and 33%, respectively.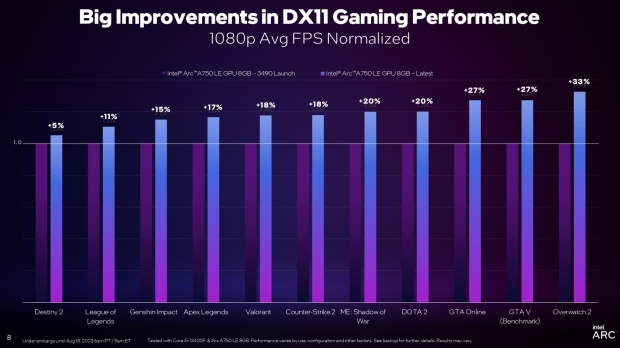 And it's not simply about improving the overall average frame rate, as the 99th percentile has seen an even bigger improvement - meaning that games will run faster and smoother with more consistent performance.
On the low-end sits Destiny 2, which only sees a 5% improvement in performance. Still, seeing performance improvements like this in a driver release is rare. Intel notes that it has focused on the most popular DX11 titles, but these gains will filter through to more titles in the coming months. The Intel Arc driver team has been working on this DirectX 11 update for quite a while, and it's now ready for public release.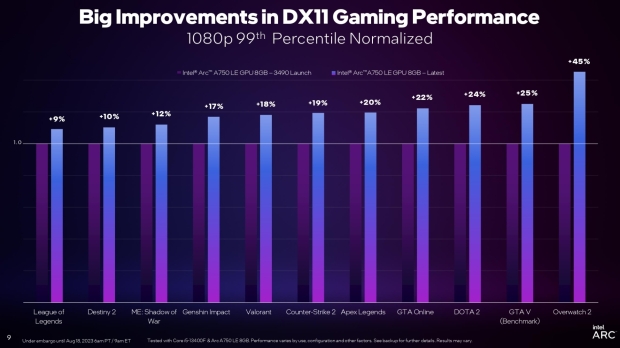 "We have a prioritization process that we go through, looking at individual title lists, and generally, if it's a gigantic title with millions of concurrent players, that's what we focus on," Intel's Tom Petersen tells TweakTown. "Games like CS:GO, Valorant, and DOTA 2 are today's largest-played concurrent titles. And we'll continue to use that as our guiding light, games used by the press and titles with large communities."
What's interesting about the DirectX 11 improvements is that according to Intel, backed up by internal testing and benchmarks, the Intel Arc A750 graphics card sees the biggest DX11 improvements when paired with the more mainstream Core i5 CPUs versus the more enthusiast Core i9 class. This reinforces the USD 249 Arc A750 as a mainstream option for PC gamers looking to put together a new PC on a budget - which would ultimately mean choosing a more affordable Core i5 CPU.
Interestingly Intel didn't mention or showcase the more premium Intel Arc A770 in its presentation.