An icy comet that is racing toward Earth has given its largest outburst yet, spewing its icy innards out into surrounding space and forming its iconic "horns".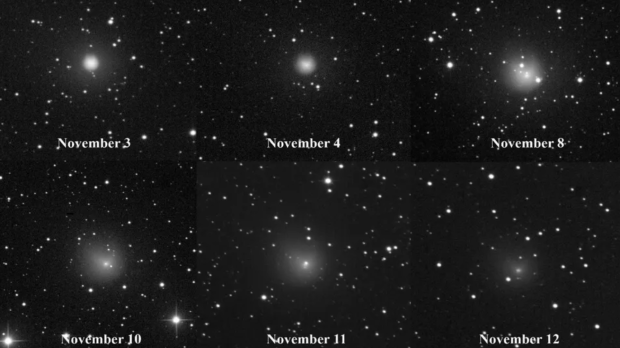 The comet is none other 12P/Pons-Brooks, an absolutely massive comet that's estimated to be 18 miles wide, or approximately three times the size of Mount Everest, has been in astronomy spotlight for quite some time as it makes its journey toward the inner solar system. As its getting closer to the Sun our local star is heating the surface of the icy comet, specifically the material under its icy crust. This heating process produces a gas that then builds beneath the crust eventually bursting out violently.
These eruptions can be seen as significant increases in brightness levels, as the massive outgassing provides more mass for the Sun's light to bounce off of, which is then seen by astronomers as an increase in the comet's overall size. In the instance of 12P/Pons-Brooks, this iconic comet grows its "devil horns", which seemingly forms into a halo-like coma.
Notably, 12P/Pons-Brooks is moving at an astonishing 40,000 mph, and on June 2, 2024 it will come within 144 million miles of Earth, which is approximately 1.5 times the distance between Earth and the Sun.