At this point, we're just curious to play Ubisoft's perpetually in-development and delayed Skull and Bones. With development led by Ubisoft Singapore, Skull and Bones began life as a spin-off to Assassin's Creed IV: Black Flag, with the focus shifting to a full-on pirate high-seas "I'm on a boat" action.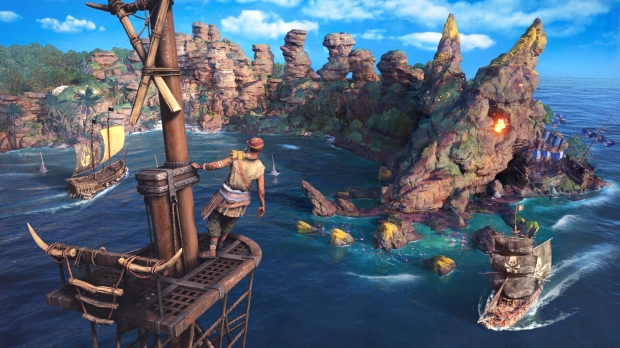 That should clue you into how long this game has been in development; the team started working on it in 2013. The official reveal didn't happen until 2017; however, since that time, it's gone through several revisions, including restarts and pivots from live service to free-to-play to PVP to PVE and every trend from the last decade that you can think of.
As part of the latest financial earnings call, the company confirmed that Skull and Bones has been delayed once more to sometime during the first few months of 2024.
It's getting silly now; Skull and Bones has become the publisher's Duke Nukem Forever. If Ubisoft is still struggling to finish the game or create something fun out of the pirate premise and theme, perhaps it's time to call it quits or slap on an indefinite delay until the ins and outs of Skull and Bones are properly fleshed out. No reason was given for the delay, but maybe "it's Skull and Bones" is enough.
To make matters confusing, the game was on track for a late 2022 release, with previews, betas, and hands-on opportunities pointing toward an imminent release. Ubisoft even released PC hardware requirements for the game in August 2022, revealing that the game would support DLSS, FSR, real-time ray-traced global illumination, and multi-monitor or ultrawide display setups. Ahead of its late 2022 launch, the release was pushed to early 2023 to ensure the game was polished.
PC hardware requirements usually drop very close to a game's launch, so the understanding was that the development had wrapped and the team was focused on bug fixing and polishing. Another delay, this time to 2023, is a definite cause for concern, especially when there was a close beta several months ago.
Ubisoft hasn't spoken about the game since or shown anything new for months. Will Skull and Bones make its latest release window? Probably not, but who knows?