Sony's upgraded PlayStation 5 Pro console has been teased in a recent video and tweet by RedGamingTech, and it's teasing a fairly beefed-up PS5 Pro that would offer some decent performance bumps to both the CPU and GPU inside of the console.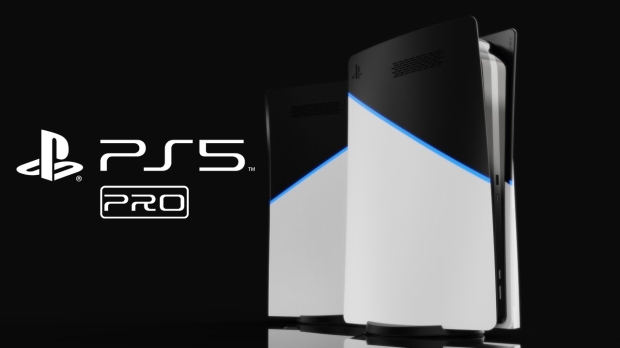 According to the rumor, the upgraded PlayStation 5 Pro console would maintain its 8-core, 16-thread Zen 2-based CPU but bring the clock speeds up a little over the APU inside of the PlayStation 5, which is CPU clocks at up to 3.5GHz, up and into the low 4GHz range. Not bad.
The current PlayStation 5 console has an RDNA 2-based GPU with 36 CUs at up to 2.23GHz, while RedGamingTech is teasing a heavily beefed-up RDNA 3 hybrid GPU with 60 CUs at between 2.5GHz to 2.8GHz.
PlayStation 5 CPU (8C/16T Zen 2 @ up to 3.5GHz)

PlayStation 5 Pro CPU (8C/16T Zen 2 @ low 4GHz)

PlayStation 5 GPU (36 CUs RDNA 2 @ up to 2.23GHz)

PlayStation 5 Pro GPU (60 CUs RDNA 3 @ up to 2.8GHz)
Will the PlayStation 5 Pro launch in 2023? Well, previous rumors suggested a 2023 release, which only gives Sony less than 10 weeks from now -- October 17, 2023 -- to tease, heavily market, and promote, and then release the PlayStation 5 Pro. I guess that is possible, and if it happens, it's going to make for an exciting next few weeks leading into the holidays and a possible PS5 Pro released before Christmas.
I can see this being an 8K console at that point, at least for some games, as Sony can easily push it up to 8K with upscaling and hopefully 30-60FPS. We've been hearing rumors of an upgraded PlayStation 5 Pro console that would be 8K gaming-ready, priced somewhere between $600 and $700, with a 2023 release.
Sony's more powerful PlayStation 5 Pro would stand out against the regular PlayStation 5 and give the world of 8K TVs some fun to play with.