Intel's 14th Gen CPUs are set to arrive very soon, with rumors pointing to an October Raptor Lake Refresh launch. Although Intel has yet to announce the new generation formally, we've already seen benchmarks leak for the flagship Intel Core i9-14900KF and Intel Core i9-14900K flagship CPUs and seen that the new 6 GHz boost clocks on the high-end are delivering some impressive results.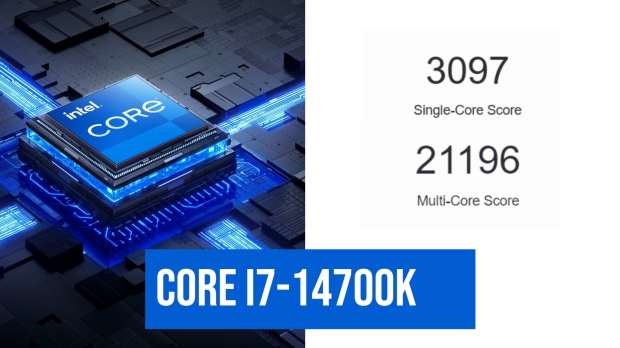 Read more: https://www.tweaktown.com/news/93301/intel-core-i9-14900kf-cpu-benchmarks-leak-and-it-is-15-faster-than-the-13900k/index.html
Based on these results, the Intel Core i9-14900KF is set to be the world's fastest consumer CPU across single and multi-core tests. Today comes more info on the Intel Core i7-14700KF, which sits in the mainstream or more affordable region and is the successor to the popular Intel Core i7-13700KF.
According to a new Geekebench leak, the new Intel Core i9-14900KF features more cores than its previous generation counterpart. Not only that, but it can also be pushed to 6 GHz to deliver a big performance increase. However, this is when paired with the new GIGABYTE Z790 AORUS Master X motherboard and overclocked.
The new Intel Core i7-14700K is set to feature an 8+12 Core configuration, higher than the 8+8 of the Intel Core i7-13700K - which will boost multi-threaded performance. Out-of-the-box, the CPU will feature a 5.6 GHz boost clock speed, 200 MHz higher than the Core i7-13700K.
Outside of the overclocking capabilities and a 10% increase in single-core and 20% increase in multi-core performance, the only downside seems to be the rumor that Intel plans to increase the prices of its 14th Gen CPUs by 15%. Hopefully, this isn't the case, and we see the next generation of Intel's desktop CPUs maintain the same prices, making the reported performance increases much more exciting.