Intel's Raptor Lake Refresh series is rumored to launch next month. CPUs from the new lineup are already starting to appear online - with the flagship Intel Core i9-14900KF popping up in Geekbench 6 results with impressive performance.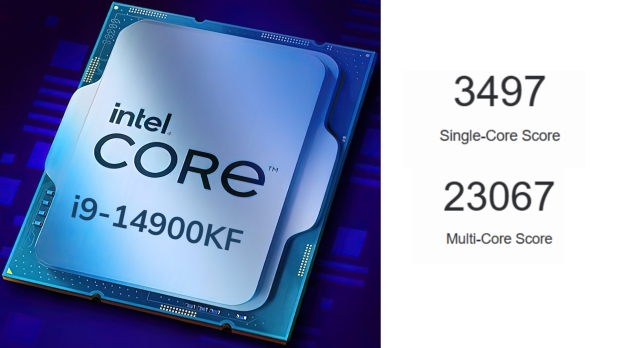 Earlier this month, we reported on CPU-Z benchmark results for the new 6.0 GHz Intel Core i9 14900K (with 8 P-Cores and 16 E-Cores), where it delivered a decent performance boost compared to the 13th gen flagship.
According to the flagship Intel Core i9-14900KF results, it's set to be the world's fastest consumer CPU across single and multi-core tests. The Geekbench results come from user OneRaichu, who looks to have run multiple tests on the new flagship Intel CPU - with the highest single-core score being 3,497.
Compared to the current flagship Intel Core i9-13900KF, this result is roughly 13% faster, with the uplift compared to the Intel Core i9-13900K and 13900KS being higher. It's also 15% faster than AMD's flagship Ryzen 9 7950X CPU. The multi-core score of 23,067 is also 20% faster than the Ryzen flagship - a significant increase.
Interestingly, even though specs for the new Core i9-14900KF point to it featuring 24 cores, the results here from OneRaichu only list 16 cores with 32 threads - implying that some of the E-cores might have been disabled. Although we only have a handful of tests to go on, the preliminary results indicate that the boost clock of 6 GHz for the flagship 14th-generation CPUs from Intel could be one of the main reasons for the performance uplift.
Current reporting puts the release date for the 14th generation Intel Core CPUs at October 17, so we won't have to wait too long to get more in-depth benchmark results and reviews. These results are certainly promising for what is an architectural refresh from Intel.