Results from a test conducted nearly 50 years ago are still the subject of question, with one group of scientists claiming NASA's testing methods may have killed Martian life forms living inside rocks.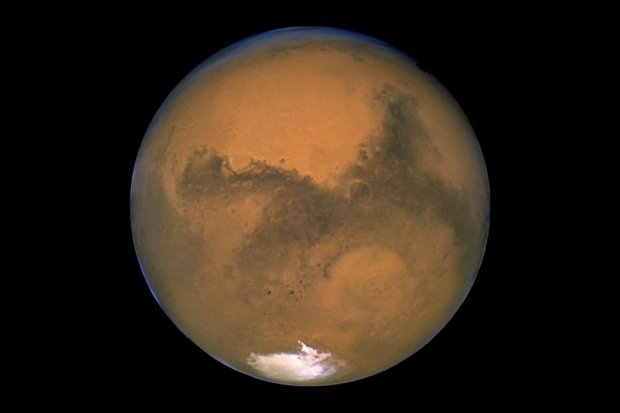 The re-heating of the debate regarding these test results comes from Dirk Schulze-Makuch, an astrobiologist at Technical University Berlin, who penned a June 27 article in Big Think discussing the possibility of NASA's landers accidentally discovering and then killing Martian microbes. The astrobiologist claims that Martian microbes, forms of life known to survive in extreme environments, are possibly present in Martian rocks and that the testing process by the Viking landers involved the use of too much water, resulting in skewed test results.
Here's the ongoing debate. The Viking landers carried out four tests that ended in a general consensus that Martian soil didn't have the necessary ingredients for life as we know it. However, some scientists call into question the inclusion of water throughout the tests. The idea behind including water was to see if life would show itself, which Schulze-Makuch says was a reasonable presumption considering Earth is a water planet. However, there are some microbes on Earth that die when exposed to too much water.
"At the very end of that progression, you find microbes that live entirely within salt rocks. These hardy organisms take advantage of a process we call hygroscopicity, by which certain salts attract water directly from the relative humidity of the air. (This is the same process that makes table salt clumpy when you leave it exposed to air.) For that reason, the microbes living inside salt rocks in the Atacama do not need any rain at all - just a certain amount of moisture in the atmosphere," writes Schulze-Makuch
For example, in a 2018 study, 85% of an indigenous species of microbe living in the Atacama Desert died when it was flooded as they were unable to adapt to the wet conditions. This type of species of microbe can theoretically be present in Martian soil, which Schulze-Makuch argues could have immediately been killed once it was exposed to the Viking lander's water.
Despite this extremely interesting factor, not all researchers are convinced. With Chris McKay, an astrobiologist at NASA's Ames Research Center in California, who told Live Science in an email that researchers still trying to find holes in the Viking results are simply wasting their time, as he disagrees with their logic. Adding, that for these researchers to be right, it calls for a "new type of life" to enter into the equation.
"Now let's ask what would happen if you poured water over these dry-adapted microbes. Might that overwhelm them? In technical terms, we would say that we were hyperhydrating them, but in simple terms, it would be more like drowning them. It would be as if an alien spaceship were to find you wandering half-dead in the desert, and your would-be saviors decide, "Humans need water. Let's put the human in the middle of the ocean to save it!" That wouldn't work either," added Schulze-Makuch
The debate on these results, and many others like it, is the primary reason why scientific operations continue to search for evidence of past microbial life on Mars, which, if found, will conclude the debate as to whether Mars once or still has the right conditions for life to exist on its surface.
However, nearly 50 years later, scientists have pulled up dry on the life front but have concluded that the Red Planet was once home to liquid water. Teams were able to reach this conclusion by examining rock sediment and looking at the Martian ground that displayed similar features to dried-up river beds or lakes on Earth.
What will really be the big moment is when NASA returns Martian rock samples to Earth, where they will undergo in-depth analysis with equipment much more powerful than the instruments equipped to landers/rovers.