The latest AMD Software: Adrenalin Edition 23.9.1 driver release for Radeon graphics is big, as it adds Radeon Anti-Lag+ and AMD HYPR-RX for RDNA 3 GPUs. Coinciding with the launch of the new Radeon RX 7700 XT and Radeon RX 7800 XT GPUs, HYPR-RX is a new driver-based feature for the RDNA 3 generation that offers a significant boost to performance while lowering latency for all games at the driver level.
Anti-Lag+ is AMD's latest version of its Reflex-like latency reduction tool, optimized per game and exclusive to RDNA 3-based Radeon graphics cards. With the first wave of 12 Anti-Lag+ supported titles, including Apex Legends, Overwatch 2, Fortnite, and Star Wars Jedi: Survivor, AMD showcases the difference it brings compared to its existing Anti-Lag tech.
HYPR-RX combines Anti-Lag+, Radeon Boost, and Radeon Super Resolution into a single-click option to make access to these technologies easier. It will be expanded next year with the long-awaited introduction of FSR 3 and AMD Fluid Motion Frames - the company's answer to DLSS 3 Frame Generation.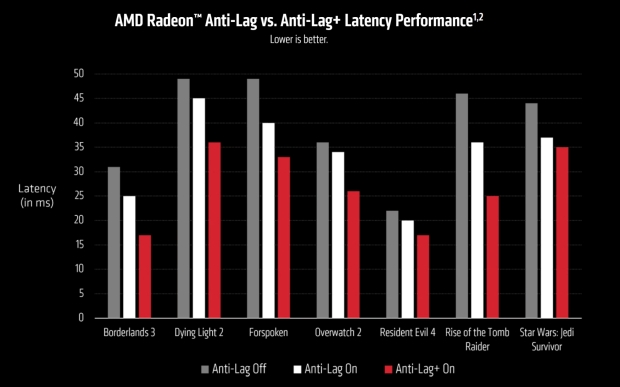 As handy and intuitive as HYPR-RX is at launch, it's worth noting that the Super Resolution technology deployed is the original version of FSR and not the superior FSR 2, which uses game motion data to improve the upscaled image noticeably. This means visual fidelity and image quality will take a noticeable hit when enabling this feature.
Radeon Boost is an interesting one as it handles dynamic resolution scaling based on user input, in that if there's a lot of motion, the resolution drops because you won't notice the difference. It's a smart way to boost performance in fast-moving titles, especially when paired with the latency reduction of Anti-Lag+ - which AMD notes will add more title support for in the coming months. But like Anti-Lag+ it needs game-specific support, with the latest driver release adding Radeon Boost support to Resident Evil 4 Remake and Ghostwire: Tokyo
So, for now, the full effect of HYPR-RX for RDNA 3 GPUs is limited to titles that support all three technologies:
Apex Legends

Overwatch 2

Borderlands 3

Dying Light 2

Shadow of the Tomb Raider

Rise of the Tomb Raider

Resident Evil 4

Ghostwire: Tokyo

Fortnite

The Last of Us: Part 1

Star Wars Jedi: Survivor

Forspoken
Plus, the image quality will suffer in the process. Of course, the extent of which and the performance you get will hopefully hit the right sweet spot where it's worth it. But with that in mind - as of now - it's an exciting bit of new tech that does come at a cost. The good news is that each component is its own thing - so having Anti-Lag+ is a definite win for Radeon RX 7000 Series owners.