Starfield is out this week, even though it seems like the whole PC gaming world has been playing the Early Access version over the past week, and with Intel Arc support reportedly spotty (at best), the driver team at Intel has pushed out a driver update specific to Starfield. And according to the Intel Graphics team, there's another one on the way later this week.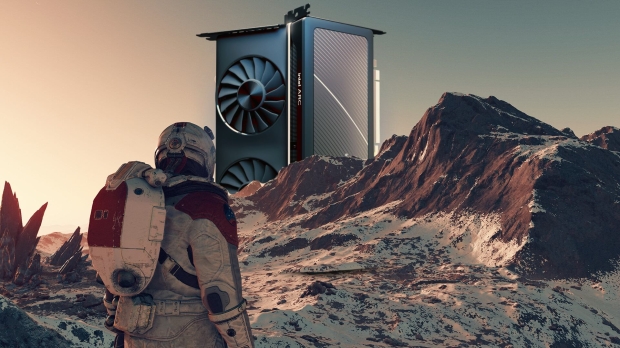 "The driver engineering team is still hard at work on further stability and performance improvements," writes Intel on Twitter/X. "We want to offer fixes for this title as quickly as possible." Stability issues specific to a single vendor are not great, though kudos to the Intel team for working hard to release a new driver and continue to improve the game's performance.
The Starfield driver for Intel Arc graphics cards that just dropped is a big one, as it significantly reduces loading times and resolves several "game instability and visual artifacts." However, as more work needs to be done, Intel advises playing the game using the 'High' preset or lower - so no Ultra then.
It certainly sounds like Starfield isn't playing nice with Intel Arc graphics cards, as the full release notes for this driver release state the following 'Known Issues' for the game. Some of these still sound pretty serious, so here's hoping Intel can iron them out as soon as possible.
Starfield (DX12) may experience application instability in some areas of the game.

Starfield (DX12) may exhibit corruption when using Dynamic Resolution Scaling. A workaround is to change the Render Resolution Scale slider value.

Starfield (DX12) may exhibit texture flickering on light sources during gameplay.

Starfield (DX12) may exhibit low texture details on certain objects in the game.