The Pentagon has launched a website that's designed for government personnel to report UFO sightings and inform the public of the findings.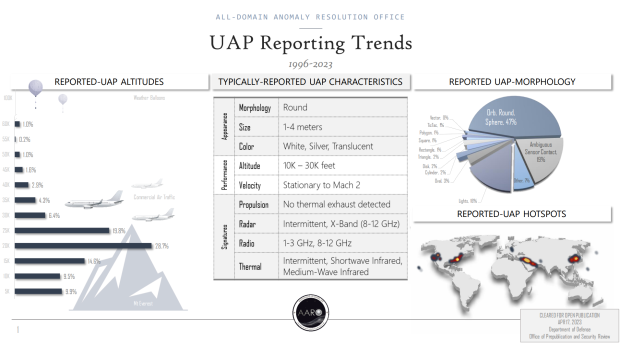 The website was unveiled on August 30 by the All-Domain Anomaly Resolution Office (AARO), and according to the office's director Dr. Sean Kirkpatrick, government and military personnel will be able to use the website to lodge UFO, or unidentified anomalous phenomena (UAP) sightings that will then be analysed and depending on their validity, added to the overall historical record of UFO sightings.
The new site states its goal will be to "minimize technical and intelligence surprise by synchronizing scientific, intelligence, and operational detection identification, attribution, and mitigation of unidentified anomalous phenomena in the vicinity of national security areas."
Notably, the new site actually provides a three-part definition of a UFO/UAP - objects that aren't immediately identifiable, objects or devices that are transmedium, meaning they can travel through the air and water seamlessly, and underwater objects that aren't immediately identifiable that are related to the first two parts of the definition.
The launch of this website comes after former US military personnel sat before Congress to discuss first-hand sightings of UFOs while on training missions, along with claims that the US government has secret military programs that focus on collecting crashed UFO spacecraft.