AMD has created 500 limited edition Ryzen 7800X3D CPU and Radeon RX 7900 XTX combos to giveaway, and one of them is up for auction on eBay, with the proceeds going to the Mental Drive Inc. nonprofit organization dedicated to promoting mental health awareness and support.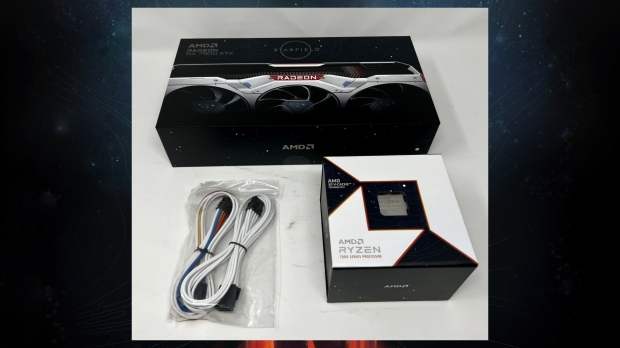 So, yeah, this is not someone you managed to win one of these super rare packs and decided to flip it for profit. However, as it is a private seller, there's no confirmation or info on what percentage of the purchase price will go to the charity.
The star of the show here is the custom Radeon RX 7900 XTX, which looks stunning in white and other colors with vinyl and a new backplate modeled after the game's main Constellation faction. The Constellation colors are being used as the color scheme for all special Starfield-themed products - and this is up there as one of the best looking.
The Radeon card is AMD's reference design for the flagship 7900 XTX - a 4K beast that will no doubt be able to run Starfield with max settings. The Ryzen 7800X3D, on the other hand, merely features a custom Starfield-themed box because there is not much you can do to a CPU, and you don't see your CPU when gaming anyway.
Still, it's a powerful combination of PC hardware and an amazing collector's item. As of writing, the current bid is sitting at an impressive USD 3,650.00 - which will undoubtedly climb much higher as there are still 5 days left of bidding.
With plenty more of these limited edition packs to giveaway, be sure to keep track of AMD and Bethesda's socials to see how you might win one.