If you've ever gotten deep into a racing or flight simulator, you've undoubtedly considered putting together a dedicated rig to power your vehicular fantasies. That is a full chair with a steering wheel or physical flight controls attached to an ultrawide or multi-monitor display to deliver an immersive view of a race track or sky.
Cooler Master's new Dyn X combines a dynamic and customizable cockpit with an ergonomic and durable racing seat to accommodate 14 driving positions, according to the press release. And this extends to flight simulators like the visually stunning Microsoft Flight Simulator.
Racing sims on PC cover almost anything with four wheels, from major Formula 1, GT, and Rally car racing to driving various buses, trucks, and even tractors as part of a daily route or routine. Yep, driving a virtual truck to deliver cargo in faraway countries is more popular than you'd think - and Cooler Master's Dyn X will have you doing that in style.
The Dyn X Cockpit's modular design and steel construction have been designed to accommodate various peripherals, controls, and even motion systems for an extra level of immersion. Cooler Master notes that the Dyn X cockpit is easy to assemble and compatible with a wide range of racing accessories.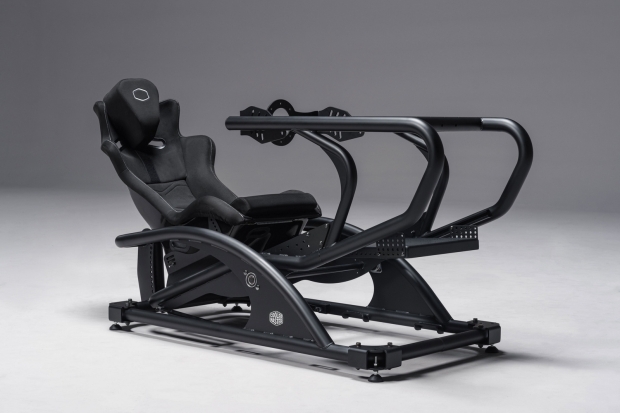 In addition to the cockpit, you've got the Dyn X Racing Seat, which is made of a fiberglass composite shell for sturdiness with a premium synthetic suede leather finish to add a dose of luxury - which is handy for all of the high-end virtual cars you'll end up driving. The cushion covers are also interchangeable and available in black, red, or blue.
"Cooler Master has always been at the forefront of innovation, and the Dyn X is a testament to our unwavering commitment to elevating gaming experiences," said Jimmy Sha, CEO of Cooler Master. "Whether you're taking on a new racetrack or taking flight, the Dyn X offers unprecedented customization, comfort, and immersive gameplay."
For more information and specs, head over to the official product page for the Dyn X.