After what feels like an eternity (it's only been nine months), AMD has finally confirmed that its FidelityFX Super Resolution 3 update, or FSR 3, is "Coming Soon." With the company's new Fluid Motion Frames technology, alongside Anti-Lag+, it's set to finally deliver Team Red's answer to NVIDIA's groundbreaking DLSS 3 Frame Generation technology that debuted with the GeForce RTX 40 Series last year.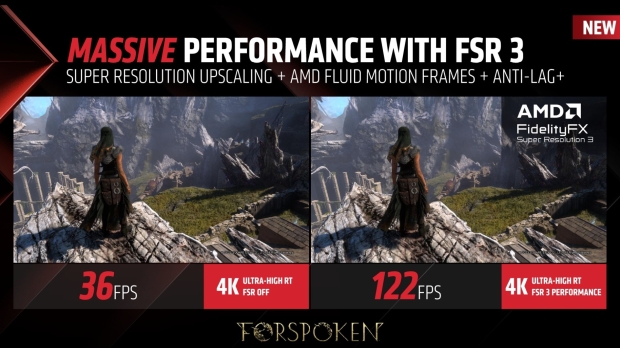 Unlike NVIDIA's approach, AMD's FSR and Fluid Motion Frames won't use specialized AI hardware or deep learning to deliver its "massive performance" uplift. It'll be compatible with all GPUs, including three generations of RDNA graphics cards across the Radeon RX 5700, RX 6000 Series, and the new RDNA 3-powered RX 7000 Series.
The first two titles that will use FSR 3 (which you'll have to enable in-game) will be Square Enix's Forspoken and the brand-new Immortals of Aveum, which uses the latest Unreal Engine 5.1 technology. In the case of Forspoken on the new Radeon RX 7800 XT, the 36 fps 4K Ultra-High RT jumps up to 122 fps with FSR 3 Performance mode.
This impressive 3.4X increase in performance includes the Super Resolution upscaling of FSR with AMD's new Fluid Motion Frames technology and Anti-Lag+. AMD notes that users can select 'Native AA' over Super Resolution upscaling before applying Fluid Motion Frames for improved visual fidelity alongside perceived performance with the generated frames.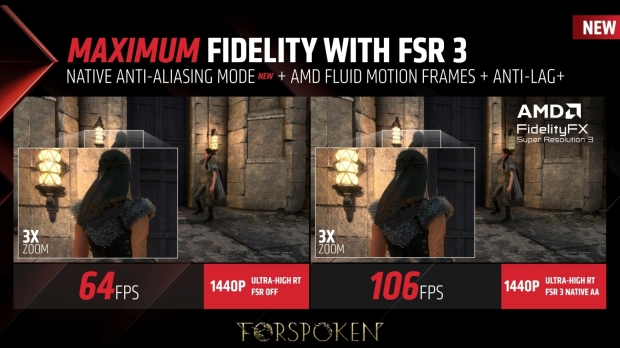 In addition to the two titles highlighted, AMD notes that FSR 3 support is also coming to Avatar: Frontiers of Pandora, Cyberpunk 2077, Warhammer 40,000: Space Marine II, Frostpunk 2, The Alters, Squad, Starship Troopers Extermination, Black Myth Wukong, Crimson Desert, and Like a Drago: Infinite Wealth.
Like FSR 2, FSR 3's Fluid Motion Frames use motion vector data - though full details on how it works and compares to NVIDIA DLSS 3 and Frame Generation are a little scarce. Also, with Anti-Lag+ being a technology exclusive to AMD's Radeon software, enabling FSR and Fluid Motion Frames on an NVIDIA GeForce or Intel Arc GPU will make use of built-in latency optimizations without the additional benefit of AMD's Anti-Lag or Anti-Lag+.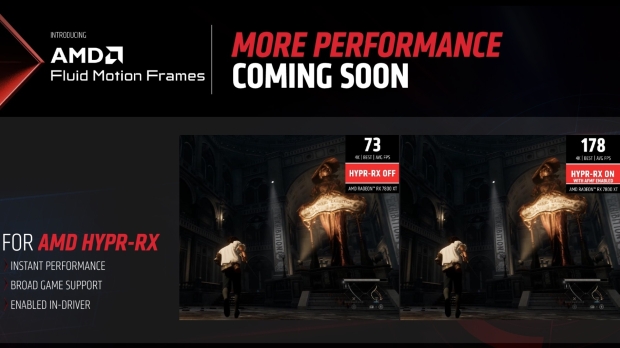 There's even a version of Fluid Motion Frames in the works for AMD's HYPR-RX driver platform for boosting performance and reducing system latency - and when that drops, it'll be something you could enable across hundreds of DirectX 11 and DirectX 12 titles.
Even though it's great to see FSR 3 finally on its way, many questions about image quality and how it looks with or without FSR 2 remain - especially when DLSS 3 and Frame Generation's AI approach requires specialized hardware exclusive to the new GeForce RTX 40 Series. As no release date has been set, odds are it won't arrive in time for the Radeon RX 7700 XT and 7800 XT launch on September 6.