Even though the big Gamescom event is now underway in Germany, AMD's "Gaming Festival" is scheduled to kick off on Friday, August 25th, with AMD GPU Chief Scott Herkelman set to hit the stage at 5 pm local time. AMD has already hinted that it will unveil its "next major product announcements" for the Radeon brand, and now we've got more definitive proof that it will cover multiple GPU announcements.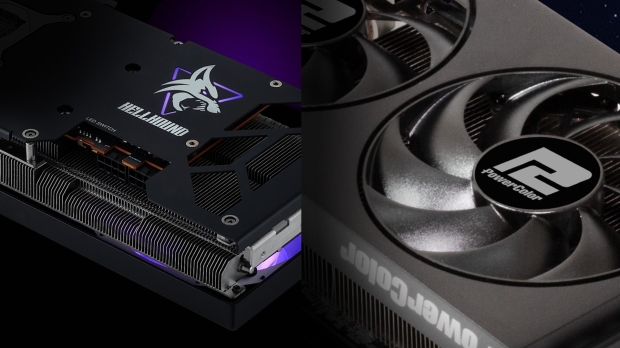 Based on leaks, rumors, and common sense, the mysterious new Radeon products will cover the mid-range and enthusiast graphics cards for the RDNA 3 line-up - the Radeon RX 7700 XT and the Radeon RX 7800 XT. In addition, we might also get to see some new software innovations from the company, like the long-awaited FidelityFX Super Resolution 3 or FSR 3, which is essentially AMD's version of NVIDIA DLSS 3 Frame Generation.
Ahead of the presentation, a few of AMD's closest partners in the GPU field have taken to social media and the Gamescom show floor to tease the reveals - with ASRock putting "RDNA 3" placeholders on its booth next to existing products.
Plus, PowerColor has taken to Twitter and Facebook to tease new Radeon GPUs "coming soon" from its Hellhound and Fighter series. AMD Radeon partner PowerColor inadvertently posted the full product page for its Radeon RX 7800 XT Red Devil graphics card a short while ago (which was then quickly taken down), so odds are these are Radeon RX 7700 XT Radeon RX 7800 XT cards.
There aren't any technical details for the cards or products outside of one of the PowerColor shots showcasing dual 8-pin connectors, hinting at something far more powerful than the mainstream and entry-level Radeon RX 7600.
Full hardware details and performance expectations should arrive with AMD's presentation. Still, based on rumors, the enthusiast Radeon RX 7800 XT will use the full Navi 32 GPU, which features 60 Compute Units and 16GB of GDDR6 memory. With the 7800 XT and 7700 XT set to go head-to-head with NVIDIA's GeForce RTX 4070, pricing will be the other big question mark answered in a few short days. Stay tuned.