Following massive expansion, Embracer Group is now one of the largest video games companies on the planet with over 16,000 employees. This is expected to change as the company tightens its belt and its spending accounts become more lean.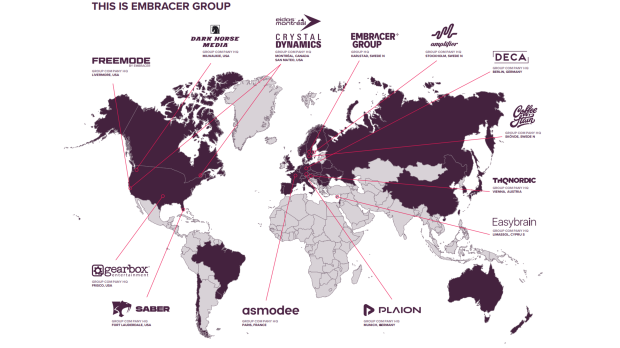 Years after record earnings from pandemic spending, most video games companies are starting to pare back on operating expenses, whether it be budgets for more acquisitions or game development. We've seen mass layoffs in the tech sector with major publishers shedding hundreds of workers. That trend is set to continue with the Embracer Group, an entertainment company that houses some of the biggest names in gaming from Saber and Gearbox to THQ Nordic and Crystal Dynamics/Eidos.
Ever since Embracer's big $2 billion deal fell through, the company has been looking at ways to cut back its spending and has created a company-wide plan for cost saving. This plan includes the closure of game studios and the cancellation of specific titles. Other measures like divestment are also possible; Embracer is willing to sell off parts of or even whole studios in an effort to reduce its spending accounts. This is an interesting development in Embracer's years-long quest in acquisition expansion and somewhat ironically follows Square Enix's potential plans to also divest portions of its studios.
In Embracer's Q1 results, company CEO Lars Wingefors said the following:
"In addition, we have set a high priority on increasing external funding of certain larger projects and potential divestment opportunities."
"In the case of studios closure or divestments, you'd understand in respect of due process and commercial sensibility, we will not be commenting on the specifics," said finance executive Muge Bouillon.
The cost-saving plan reiterates Embracer's desire to secure more capital funding through external partners. These kinds of business agreements include Amazon's multi-year deal to fund the new Tomb Raider game (as well as a $600 million deal to use the franchise for other multimedia projects)
"We're not only doing layoffs, we're trying to find new partners for our games or a new home to certain studios. It's potentially easier to find partners for games that are playable and that you can actually see what it is," Wingefors said.
"We have taken actions on studios either by closing or divestments already that have not been publicly announced."
Embracer Group currently has 7 operating units with different publishers and a multitude of development teams and studios under specific divisions.