Humble Bundle's latest Decades of Horror bundle packs in some must-have Resident Evil games for a low price.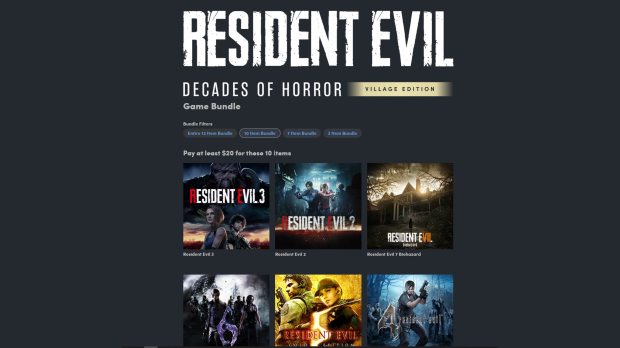 Humble is bringing the savings on legacy catalog titles from Capcom, packing some great action-packed Resident Evil games. The deal offers 12 games total, split into four different pricing tiers. Depending on how much Resident Evil you want, the best deal seems to be the $20 bundle that packs in greats like Resident Evil 2 REmake alongside Resident Evil 7.
There's also a the $35 bundle which includes everything in the $20 bundle with the addition of the excellent and super entertaining Resident Evil Village, a game that stands as one of the best Halloween games you could possibly play.
The full bundle is worth $335 at retail prices, but Capcom runs these kinds of sales quite often, so if you can't buy now just wait until later and you'll most likely find a discount. Remember that Capcom eventually wants to sell 100 million games per year, and to do that, the company is willing to continually discount older catalog games to improve evergreen sales.
The contents of the $20 bundle are below. If you haven't tried these games yet, I highly recommend them--RE2 REmake is utterly terrifying, RE7 is a blast, and RE3 Remake is a short but enjoyable action-packed experience with excellent graphics and in-game visuals.
$20 bundle includes:
Resident Evil 3 Remake

Resident Evil 2 Remake

Resident Evil 7

Resident Evil 6

Resident Evil 5 Gold Edition

Resident Evil 4 (non-remake)

Resident Evil 0

Resident Evil Revelations 2: Deluxe Edition

Resident Evil

Resident Evil Revelations