An updated Instagram app is now available and is rolling out over the coming weeks to make it much better to use on Samsung's latest foldable phones.
Using Instagram on a Samsung Galaxy Z Fold device hasn't been a fun time for a while now, with the interface failing to make full use of the larger display at hand. The lack of a tablet-sized Instagram app is also something that has long irked iPad owners, but a new update is now rolling out to improve matters. But unfortunately, it'll only work on Android. And even then, it'll only work on Samsung Galaxy Z Fold devices.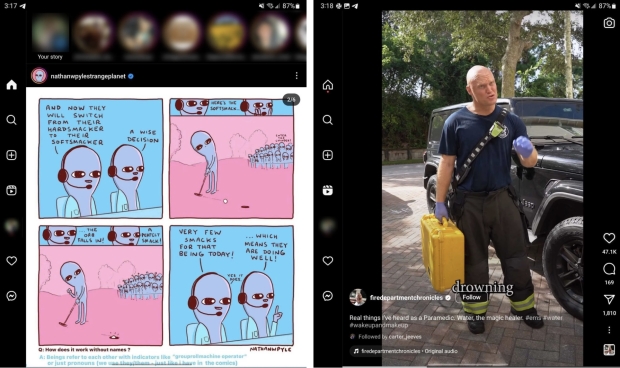 The new layout was first reported by 9to5Google and puts Stories at the top of the screen while the UI expands the feed to either side of the display for the first time. It also ensures that Reels stick to their fixed aspect ratio with black bars used to fill in the space around the videos.
There's also a new sidebar interface that puts things like Home, search, and more off to one side rather than at the bottom of the screen - a change that makes the entire app feel more like it was built to make proper use of the screen real estate made available to it.
Thankfully, this doesn't appear to be a new look that is limited to the latest Galax Z Fold 5 and it is reported to be working just fine on older Galaxy Z devices, meaning people won't have to buy a new phone just to make the Instagram app suck less.