The world's most powerful space telescope has imagined a tightly bound pair of actively forming stars bringing forth an absolutely gorgeous new image.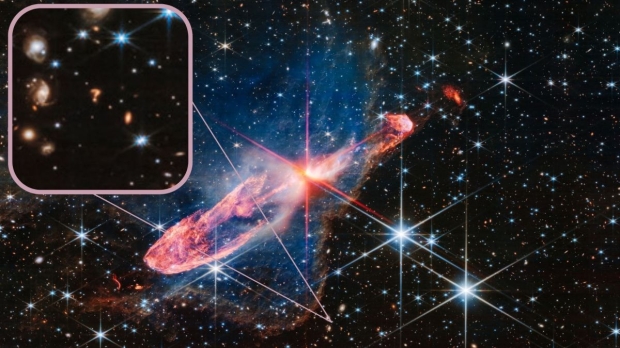 That telescope is none other than the James Webb Space Telescope (JWST), and according to the European Space Agency, which recently published a new image, the two tightly bound stars are called Herbig-Haro 46/47 and are located approximately 1,470 light years away from Earth within the Vela constellation.
The above image shows how both of the stars are being fed over the course of millions of years. As reported by Space.com, the image depicts an extremely large disc of material containing dust, which is slowly consumed by both stars aiding their growth.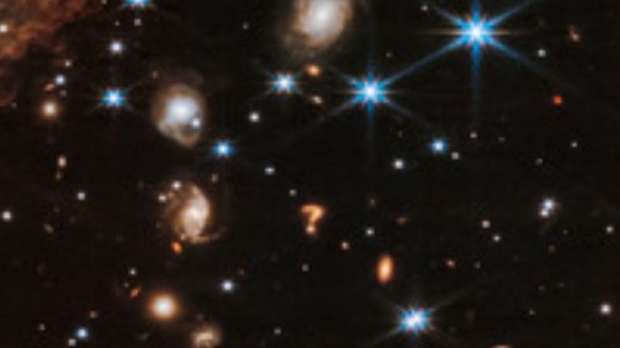 However, that isn't all that is in the image. As pointed out by the publication, there is a question mark located in the background. Notably, there isn't any official explanation for the question mark, but some scientists have weighed in to give possible explanations for its shape and color.
"It is probably a distant galaxy, or potentially interacting galaxies (their interactions may have caused the distorted question mark-shape)," said representatives of the Space Telescope Science Institute (STScI) in Baltimore, which manages JWST's science operations
"This may be the first time we've seen this particular object," STScI added. "Additional follow-up would be required to figure out what it is with any certainty. Webb is showing us many new, distant galaxies - so there's a lot of new science to be done!"