Diablo IV's massive success helped Blizzard become the jewel in Activision's crown.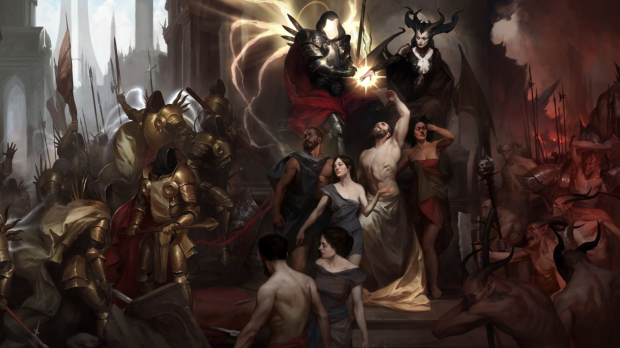 Activision Blizzard King just announced its Q2 2023 earnings, and the results are incredibly strong. Blizzard overperformed during the quarter thanks to the monumental sales revenue generated from Diablo IV. The demon-slaying ARPG helped Blizzard break $1 billion in quarterly earnings for the first time in the publisher's 32-year history.
During the second quarter, Blizzard made $1.049 billion in revenues, most of which was from the release of Diablo IV. The last figures pinpoint Diablo IV sales making $666 million in just 5 days across consoles and PC. This doesn't account for the remaining weeks of sales through the end of the month (Activision's Q2 period ends on June 30).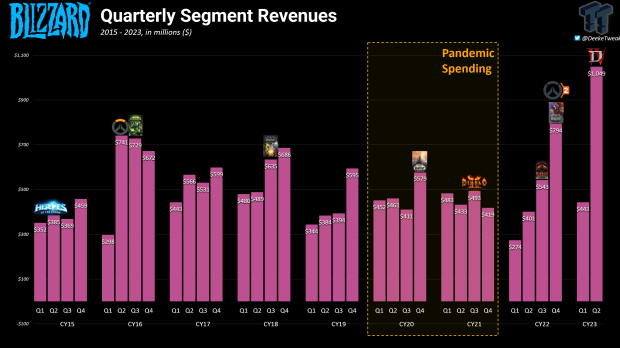 This overperformance was driven by 10 million players jumping into Diablo IV in June alone, which of course means 10 million sales because it is a buy-to-play game. As a result of its $1 billion Q2 revenues, Blizzard made up the lion's share of Activision Blizzard King's total quarterly segment net revenues for the period; Blizzard made 44%, followed by 31% for King, and 24% for Activision.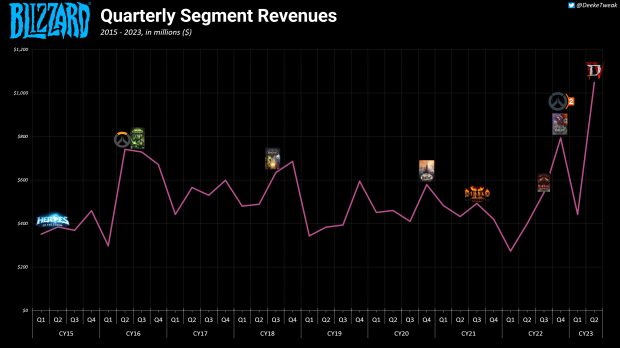 This is typically a more rare occurrence that has only happened twice in the past 3 and a half years--once in Q4 2020 with the release of WoW Shadowlands, and another time in Q4 2022 with the double-hitter launch of WoW Dragonflight and Overwatch 2.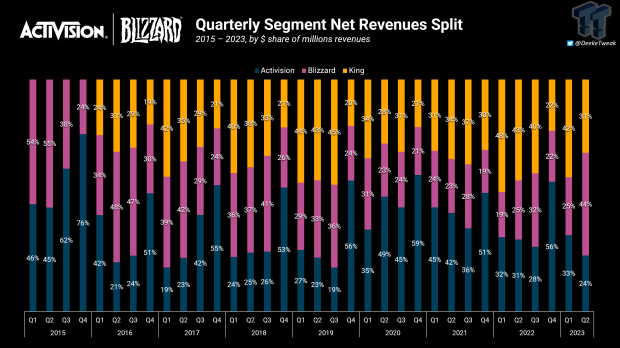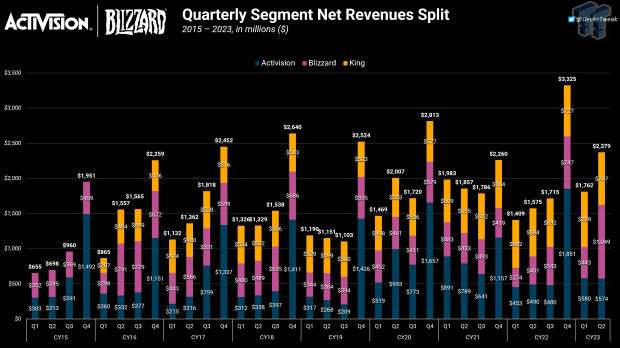 It's worth noting that not all of Blizzard's revenue Q2 revenue came from Diablo IV, as Blizzard has a myriad of live games operating in tandem including the mega-popular MMORPG World of Warcraft, Overwatch 1 & 2, and Diablo Immortal, which helped Blizzard make $99 million from mobile in the quarter prior. In its Q2 report, Activision says that Diablo Immortal's are at their highest point of 2023:
"Blizzard also saw increased engagement in Diablo Immortal, with June monthly net bookings for the mobile and PC title reaching the highest level since January."