Samsung is set to announce the Galaxy Watch 6 smartwatch during the Unpacked event on July 26 and now we know a little more about what apps it will have to offer. One of those apps will be capable of using the watch's built-in temperature sensor to measure the temperature of its surroundings.
That app will be called Thermo Check, and it will tie into the new Skin Temperature API to use the built-in infrared sensor. That means that it can be used to measure the temperature of things without even touching them, which sounds pretty cool indeed.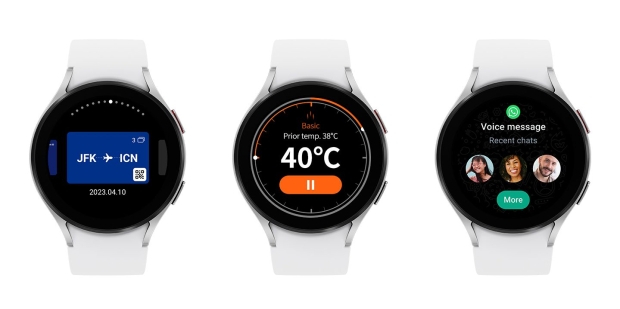 In fact, that's exactly what Samsung is advertising the app as being able to do, adding that it will be useful for meaning the temperature of meals before they are eaten or water before going for a swim. The lack of a physical contact requirement is a game changer, to be sure.
9to5Google notes that the sensor is only currently used for cycle tracking and some other data, so it's notable that it's finally getting a new use case and one that has the potential to be a big deal.
We're told that Thermo Check will be available on the Galaxy Watach 6 and Galaxy Watch 6 Classic at launch, but that it'll also be made available for the Galaxy Watch 5 and Galaxy Watch 5 Pro at a later date, whenever that will be.
The Samsung Unpacked event will see the new watches debut, but the Galaxy Fold 5 and Galaxy Flip 5 are sure to be the stars of the show - coming hot on the heels of the Pixel Fold release, these are interesting times for Samsung's flagship devices.