Twitter owner Elon Musk has commented on the recent unveiling of Threads, an Instagram app, created by Meta to compete directly with Twitter.
According to a new listing on the App Store and the Google Play Store, Meta is preparing to launch its answer to Twitter on July 6. The new app, which will essentially operate like Twitter in how people interact with each other, is called Threads, an Instagram app, and according to its listing, it will come with full integration with Instagram as users can sign into the new app with their Instagram account and migrate their followers.
Twitter owner Elon Musk and Twitter founder Jack Dorsey have highlighted an aspect of Threads that many people will have a problem with, users that download Threads will surrender a lot of privacy rights as the app collects a lot of personal data. For example, the Threads listing states that the following data may be collected and linked to the user identify: health and fitness, financial info, contact info, user content, browsing history, usage data, diagnostics, purchases, location, contacts, search history, identifiers, sensitive info and more.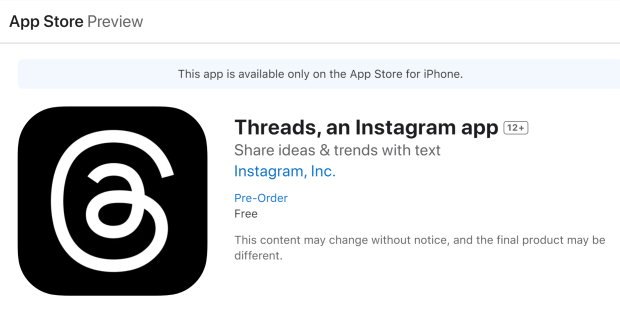 Jack Dorsey commented on the app, saying, "All your Threads are belong to us", which sparked a response from Twitter owner Elon Musk, who said, "Yeah". This isn't the first time Musk has commented on the Twitter competitor as the Twitter owner said, "Thank goodness they're so sanely run", which seems like a direct dig at Meta CEO and Facebook founder Mark Zuckerberg.
It should be noted that Musk commenting on the at-the-time rumored Threads app was what started the highly anticipated fight between Zuckerberg and Musk.